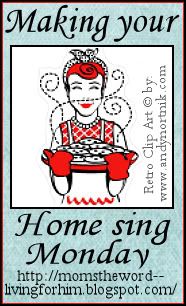 Welcome to the Making Your Home Sing Monday meme! Every day you are doing something to make your house into a home for yourself and your family (if you have one). My point with each Monday post is, what are you doing or going to do today to make your home sing?
It can be an attitude or an action. Motivation, our attitude, baking, encouraging our husband or children (if we have either one), organization, cleaning, saving money....the opportunities are endless.
So how did your last week go? Mine went fast!
We had some snow and were snowed in a bit but it was sort of like a mini vacation, so I was o.k. with it.
I made
potato soup
and enjoyed the beauty of the falling snow. Sometimes it's just nice to step back a bit and relax, read a book, take a bubble bath, or whatever.
Do you ever feel like you're in a rut (a.k.a. same old routine)? You cook the same meals week after week? You do the same cleaning week after week? You wear the same clothes week after week? You
neglect
to clean the same thing week after week?
You wear the same color eyeshadow or wear the same hairstyle week after week (or in my case, year after year!)?
You spend time with the same people week after week (not including family because that's a bit difficult to change)? Do the same routine week after week? Drive the same way to work, the store or church week after week?
I think we love vacations or mini-vacations because they get us out of our "normal" routine. Even if we have a stay-cation we find ourselves loving the change of pace.
Sometimes we like our "ruts." We like the people we spend time with so we don't get to know someone new at work or church or wherever.
We don't like cleaning something (such as the toilet) so instead we will clean something else. That way, we don't feel guilty for not getting around to the "yucky" task because it's not really our fault, right?
We drive the same road to work, church, the store or soccer practice so often that we don't notice the beauty of our surroundings. The seasons start to change or the beauty of a sunset is lost to us, because we are so focused. (Obviously SOME focus is necessary when driving a car but hey, there are stoplights!)
This last week I did last week's makeup challenge and made sure I stepped up my game for at least three days. I even *gasp* wore a different colored eye shadow than I usually do. In fact, instead of reading blogs or writing my own blog I actually *gasp* read a book. A real live book.
Well, I haven't read the WHOLE book yet but I've actually held it in my hand and read several chapters. It was fun! Who knew?
So, peeps, this week I encourage you to
get out of your rut
and try
three
new things. Try a different hairstyle, cook a brand new meal that you've never tried before, put flowers on the table if you never do that, clean something you haven't cleaned in six months to a year, wear something you haven't worn in awhile (instead of your "favorites"), write a
real live letter
instead of an email, or call up someone you don't know as well and meet them for a coke or better yet, lunch!
Don't wait for a vacation to change things up a little.
Get out of your rut and make your home sing!
What are

you

doing or going to do today to make your home sing?
Please go
here
for instructions and/or ideas and come back here to link up to join us today! Please do not put your own "Making Your Home Sing Monday" Linky on your blog. As always, please
don't forget to link to this post
. Also, please don't forgot to leave me a comment!
If you want to use your

blog header

or

profile picture

, use the "from the web" button on your right (after you click to link up). If you want to use a

picture

from your computer use the button on your left (unless the picture is on your blog)
.
Please let me know if you have any problems with linking up