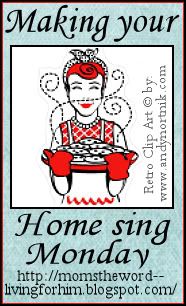 Welcome to the Making Your Home Sing Monday meme! Every day you are doing something to make your house into a home for yourself and your family (if you have one). My point with each Monday post is, what are you doing or going to do today to make your home sing?
It can be an attitude or an action. Motivation, our attitude, baking, encouraging our husband or children (if we have either one), organization, cleaning, saving money....the opportunities are endless.
Today's post is basically no post. Lucky you!
I am so behind in my blog reading, blog commenting, and even in reading all of last week's meme entries. Last week was a very busy week for me. You all have those, so I'm sure you can relate.
I was going to bore you with everything that I have going on or that happened last week that kept me busy but decided to spare you. Aren't you glad?
This week, I am going to update my to-do list with some new things, and see if I can finish some of last week's things and cross them off. That will make my home sing!
What are

you

doing or going to do today to make your home sing?
Please go
here
for instructions and/or ideas and come back here to link up to join us today! Please do not put your own "Making Your Home Sing Monday" Linky on your blog. As always, please
don't forget to link to this post
. Also, please don't forgot to leave me a comment!
If you want to use your

blog header

or

profile picture

, use the "from the web" button on your right (after you click to link up). If you want to use a

picture

from your computer use the button on your left (unless the picture is on your blog)
.
Please let me know if you have any problems with linking up