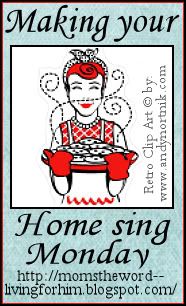 Welcome to the Making Your Home Sing Monday meme! Every day you are doing something to make your house into a home for yourself and your family (if you have one). My point with each Monday post is, what are you doing or going to do today to make your home sing?
It can be an attitude or an action. Motivation, our attitude, baking, encouraging our husband or children (if we have either one), organization, cleaning, saving money....the opportunities are endless.
Can you believe that Christmas is almost here? Me neither. It seems like just yesterday it was summer and I was wearing flip flops.
People still wear flip flops around here, even when it's raining. Shorts and flip flops. I've even seen people wearing shorts when there is
snow
on the ground, although I haven't noticed any flip flops. Doesn't mean someone's not out there wearing them though. Such a rebel!
Last weekend we were walking around
The Lloyd Center
and I stopped and watched the people ice skating. I love watching people ice skate. It just seems so winter-y and reminds me of laughing people, a warm fire and hot chocolate with marshmallows.
I have been sick this week and so haven't been blogging. However, this is the season of Hallmark Christmas movies and other old favorite movies, such as
White Christmas
or
It's A Wonderful Life.
I have also curled up in front of dvd's of when my children were little. Oh my! What precious times those were, and they disappeared way to fast. Now my oldest is in college and my youngest will be graduating from high school this year.
I also enjoyed seeing videos of my dad again. Now I only get to see him in pictures, or hear his voice on dvd since he went Home to the Lord three years ago. I am so thankful for the videos that we have of both him and my children.
This week my oldest returns from college for his Christmas break and I imagine I will eventually be feeling better because I don't plan on making a career of not feeling well.
So I plan on making my home sing by enjoying my precious family and treasuring our time together these next few weeks, which will be all to short before our oldest returns to school. I will also toss in a Christmas movie or two while I'm lying around here waiting to feel better. Life is good!
I hope you will make your home sing this week by making some memories that you can put away in your heart for the time is passing all too quickly!
If you want to use your

blog header

or

profile picture

, use the "from the web" button on your right (after you click to link up). If you want to use a

picture

from your computer use the button on your left (unless the picture is on your blog)
.
Please let me know if you have any problems with linking up.
What are

you

doing or going to do today to make your home sing?
Please go
here
for instructions and/or ideas and come back here to link up to join us today! Please do not put your own "Making Your Home Sing Monday" Linky on your blog. As always, please
don't forget to link to this post
. Also, please don't forgot to leave me a comment!