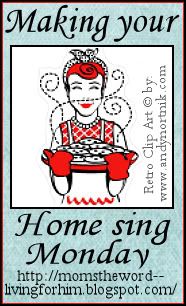 Welcome to the Making Your Home Sing Monday meme! Every day you are doing something to make your house into a home for yourself and your family (if you have one). My point with each Monday post is, what are you doing or going to do today to make your home sing?
It can be an attitude or an action. Motivation, our attitude, baking, encouraging our husband or children (if we have either one), organization, cleaning, saving money....the opportunities are endless.
Do you like unpacking? I dislike unpacking. Unpacking usually follows a trip and when I return I am tired and who wants to unpack? Unpacking isn't fun, but you have to do it. It's the
follow through.
A vacation is not simply having a relaxing time away from home. Part of the vacation is the trip home, part of the vacation is unpacking, making phone calls to start up the mail again, running to the store to stock up on milk and bread, doing laundry, etc. After all, you pretty much HAVE to do this after each vacation, right?
It is easier if you look upon all this work as
part of the journey
, instead of a hardship. After all, would the journey be so pleasurable if there was no work to relax from and nothing to get away from? What would the journey be like without all the "mundane" details being taken care of before and afterward?
In fact, this follow through of the vacation may very well be the most important part. Because this is the part where your real life begins again. This is the part where you make plans, return to work to make money to pay the bills (if you work), stock up on groceries again so that your family has something to eat, see to your needs and the needs of others, etc.,
This way, things are running smoothly and as stress-free as possible. We can't live like we're on vacation 24/7, and if we are, then someone else is running the show for us and
they
need a vacation!
What part of your life is stressing you this week because you aren't doing the
follow through?
What part is causing bumps in the road because you keep trying to be on "vacation" when you know it's really time to "head home" and get back to work again. What part is getting messed up because you want to play when you know it's time to work?
Do you have a bad habit of starting things but never finishing?
Why?
Can you change how you look at things? Can you view cleaning up the dishes as part of the follow through of serving the meal, instead of waiting hours and hours?
Can you view hanging up your clothes each night as part of the follow through of preparing for bed? Can you view making your bed as part of the follow through of getting up in the morning? What can you view differently, to make whatever responsibilities you have smoother?
As this holiday season gears up, this is a good time to examine your daily habits. Ask yourself if you are in balance. Are you playing when you should be working, or working when you should be playing? Are you doing the
follow through?
This week, make your home sing by enjoying your "me"-time or weekends or vacation time when you have it, but when it's time to "get back to work,"
do
it!
If you want to use your

blog header

or

profile picture

, use the "from the web" button on your right (after you click to link up). If you want to use a

picture

from your computer use the button on your left (unless the picture is on your blog)
.
Please let me know if you have any problems with linking up.
What are

you

doing or going to do today to make your home sing?
Please go
here
for instructions and/or ideas and come back here to link up to join us today! Please do not put your own "Making Your Home Sing Monday" Linky on your blog. As always, please
don't forget to link to this post
. Also, please don't forgot to leave me a comment!