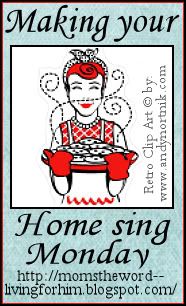 Welcome to the Making Your Home Sing Monday meme! Every day you are doing something to make your house into a home for yourself and your family (if you have one). My point with each Monday post is, what are you doing or going to do today to make your home sing?
It can be an attitude or an action. Motivation, our attitude, baking, encouraging our husband or children (if we have either one), organization, cleaning, saving money....the opportunities are endless.
Pretty sure you are all busy! I know I am. I went to the mall to get something for my hubby and parked about a million miles away. First I found something I liked but the size was wrong. Then the size was perfect but I didn't like the color. Then the color and size were good, but the fabric was all wrong. I finally found something that I liked and would work.
I waited in a very long line and finally became the second in line. There was a woman who was in the front of the line. The clerk finally finished with her last customer and so this woman was next. The clerk turned to ask someone a question before taking her next customer.
However, the woman in front on me had waited long enough and wasn't waiting any longer, I guess. She just set her stuff down and walked away. Within a minute the clerk was back at her post and able to wait on me.
Had that woman been able to wait a minute more, she would have been able to get what she wanted.
How soon is too soon to give up? How long is too long to wait?
Sometimes there are things we are hoping for and praying for that never come because God, in His Sovereignty, has something else planned. But we know that we can trust Him to do what is best.
But sometimes, we just have to wait awhile. Sometimes we just have to be patient. Sometimes we must wait and not give up, not lose hope. Just because we don't see evidence of Him working doesn't mean that He isn't. We don't have to understand everything that He is doing in order to be blessed by it.
Long ago, God made a promise. In His time, that promise because a reality when God sent His Son Jesus, to be the Savior of the world. A tiny baby in a lowly manger was the answer, the Hope that had been long awaited.
This week, I will be getting ready to celebrate His birth with my family. I don't know if I'll be blogging again, but if I don't, please have a very merry Christmas!
If you want to use your

blog header

or

profile picture

, use the "from the web" button on your right (after you click to link up). If you want to use a

picture

from your computer use the button on your left (unless the picture is on your blog)
.
Please let me know if you have any problems with linking up.
What are

you

doing or going to do today to make your home sing?
Please go
here
for instructions and/or ideas and come back here to link up to join us today! Please do not put your own "Making Your Home Sing Monday" Linky on your blog. As always, please
don't forget to link to this post
. Also, please don't forgot to leave me a comment!