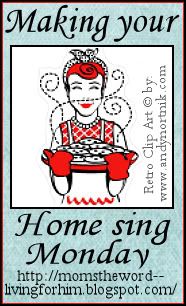 Welcome to the Making Your Home Sing Monday meme! Every day you are doing something to make your house into a home for yourself and your family (if you have one). My point with each Monday post is, what are you doing or going to do today to make your home sing?
It can be an attitude or an action. Motivation, our attitude, baking, encouraging our husband or children (if we have either one), organization, cleaning, saving money....the opportunities are endless.
Having a holiday this week totally got my days all mixed up. It just basically dawned on me that it is time to get this meme up! Everything went so fast and I am still in a pumpkin pie induced coma.
We got most of the Christmas decorations up on Friday, and the tree up and decorated by Saturday, but by then it sort of looked like Christmas threw up all over my house.
You know what I mean. You are making the transition between your everyday decorations and your
seasonal
decorations, and everything is everywhere.
Friday afternoon I dropped my son off at the mall and apparently everybody and their brother were supposed to meet there. Only
I
didn't get the memo.
As you can imagine getting out of there was tricky. There are no stop lights in the parking lot at the mall. It's every man, woman and crazed shopper for themselves.
Once you get out towards the street there are stoplights, of course. But dare to drive into the mall and your life is no longer your own. You are at the mercy of The Christmas Shopper.
You know who he or she is. Maybe you've
been
her. She knows that everlasting happiness (and a 75% discount) is inside that mall, waiting for her.
She rushes through the stores, ignoring the music and bumping into the other shoppers. She frowns at them. They have some nerve. Don't they know she's busy and in a hurry?
She and her 50,000 siblings come to the mall and get in my way. Because it's all about me. And a parking space.
Please, let there be a parking space within walking distance is my prayer the minute I drive into the mall. Because of course it is raining (or snowing) and I don't want my hair to get wet (or frozen).
This time, fortunately, I didn't have to go in. But it was still scary just driving alongside The Christmas Shopper and all her little friends.
Plus, I know that soon I might be The Christmas Shopper. Desperate to get that one last gift. That one last deal. Moving so fast that I don't get the chance to truly enjoy the season.
This week, don't be The Christmas Shopper. Don't get so caught up in the hype that you forget to stop and enjoy why we really celebrate this holiday. Don't rush through this Christmas. Stop and enjoy it.
Smile at someone at the post office. Let someone go ahead of you in the grocery store. Don't lose your head because someone beat you to the "best" parking spot.
Don't stress. Enjoy your loved ones, make some cookies and freeze them, start a new Christmas tradition. Remember the Reason for the Season! It's when we celebrate the birth of Jesus Christ! This week I am going to make my home sing by celebrating
Him!
If you want to use your

blog header

or

profile picture

, use the "from the web" button on your right (after you click to link up). If you want to use a

picture

from your computer use the button on your left (unless the picture is on your blog)
.
Please let me know if you have any problems with linking up.
What are

you

doing or going to do today to make your home sing?
Please go
here
for instructions and/or ideas and come back here to link up to join us today! Please do not put your own "Making Your Home Sing Monday" Linky on your blog. As always, please
don't forget to link to this post
. Also, please don't forgot to leave me a comment!