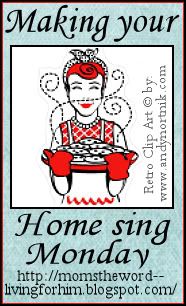 Welcome to the Making Your Home Sing Monday meme! Every day you are doing something to make your house into a home for yourself and your family (if you have one). My point with each Monday post is, what are you doing or going to do today to make your home sing?
It can be an attitude or an action. Motivation, our attitude, baking, encouraging our husband or children (if we have either one), organization, cleaning, saving money....the opportunities are endless.
Do you often find your time disappearing, and you don't know where it all went? I can't tell you how many times I've wondered what I did all day.
Sometimes you know you were busy all day and yet you feel like you have nothing to show for it. That's because so much of what we do is repetition. You cook one meal, clean up from it, and eventually you cook another - which you then clean up
again
.
You wash laundry, fold and put it away only to have
more
clothes in the laundry that night. You sweep and mop floors only to have dogs and children track in the rain, mud and leaves, sometimes while you're still mopping!
You clean off a table top and minutes later you walk by and somebody put a bunch of stuff on it so it's cluttered again. But if you ask who did it, "nobody" did it, right?
You clean the bathroom and kitchen sinks and wonder how something so close to a water source could get so dirty. You clean the toilet and wonder how such a big opening could be "missed." You clean the bathtub and wonder how one small child could have so much dirt on them.
You go grocery shopping and keep buying the same things week after week and wonder if maybe you should buy a cow and perhaps a chicken or two.
Because there is a certain "routine" to our lives, it is easy to think of things as boring. It is easy to get annoyed when people mess up "our" clean home. It is easy to forget that they live there too.
It's easy to forget that our home is their home, and to get frustrated when our children don't seem to value order as much as we do. But that's what training is for, right?
This week, when you are doing your 10,000 load of laundry give thanks! Some day you'll only be doing laundry for one or two. When you are mopping up the footprints or clearing off the table yet again, pause and put a smile on your face (and a quick prayer in your heart) before you go find the culprits! Some day you won't have little feet running through your home and it will be as clean, and as quiet, as you want.
When hubby drops his shoes and socks on the floor in front of the door, and you trip on them
yet again,
don't take it personally.
Take a moment to reflect before you react.
Remind yourself that you love him, and ask yourself if you have any habits that may annoy
him,
remember the things about him that he DOES do that you appreciate. Remember that some day he may not be there anymore and ask yourself if shoes are worth fighting over.
Instead of being bored with your routine have some fun with it and challenge yourself. Make a game of cleaning by racing the timer. Instead of setting the table for dinner put a blanket on the floor in the living room and have a picnic. Have a candlelight
breakfast
or have breakfast for dinner.
Just because you have a routine doesn't mean you have to
live
a routine. Have fun and make your home sing this week!
If you want to use your

blog header

or

profile picture

, use the "from the web" button on your right (after you click to link up). If you want to use a

picture

from your computer use the button on your left (unless the picture is on your blog)
.
Please let me know if you have any problems with linking up.
What are

you

doing or going to do today to make your home sing?
Please go
here
for instructions and/or ideas and come back here to link up to join us today! Please do not put your own "Making Your Home Sing Monday" Linky on your blog. As always, please don't forget to link to this post. Also, please don't forgot to leave me a comment!