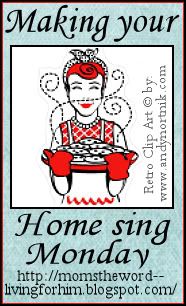 Welcome to the Making Your Home Sing Monday meme! Every day you are doing something to make your house into a home for yourself and your family (if you have one). My point with each Monday post is, what are you doing or going to do today to make your home sing?
It can be an attitude or an action. Motivation, our attitude, baking, encouraging our husband or children (if we have either one), organization, cleaning, saving money....the opportunities are endless.
There is a big difference between those furniture show-rooms you see and a
real
home. It's the people that live in it, laugh in it, and love in it that make it a home. Without the family, all it is is just a show-room. All show and no "life."
Our friends, our family, ourselves......these are the people who bring a home to life. Otherwise it is just a room with furniture.
Does your home welcome you when you get there? Does it feel like a haven or a horror?
Do you feel rested and relaxed in it, or is it so chaotic that you can't wait to get out of it for a few hours?
Is there a quiet place for your eye to rest, or is there so much disorder that you feel uneasy?
Are you waiting for your children to grow up before you attempt to clean and organize it? Are you waiting until you are rich before you decorate it?
What're you waiting for?
This week I encourage you to stop waiting to be rich, stop waiting for the kids to grow up and move away, stop waiting for company to come over so you have an excuse to clean.
Take your home back and make it work for you. Remember that you don't have to be rich to have a warm, inviting home. You don't have to wait until your kids move out before you can have an organized home.
You don't have to wait for company to come over so you can clean it. You don't need an excuse to clean. You can clean it for you and your family and you can work at maintaining it every day. That way you can spend your weekends enjoying family time instead of digging yourself out of the mess. Been there, done that!
You deserve to live in a home that is beautiful. And you can make it beautiful without spending a ton of money to do so.
You can make it clean without having to hire a cleaning crew and a wrecking ball to make it so.
All you have to do is decide that you are done waiting. All you have to do is decide that today you are going to put one item back where it belongs, instead of leaving it out. Then do it again, and again......
All you have to do is decide that you can light a couple of candles, or a fire, or bring in some greenery from the outdoors to make it comfy and cozy. You can move furniture around and rearrange the knicknacks that you have. You can open the windows (clean them if you must), get rid of the clutter, dust off the tables and enjoy!
When is the last time you were all able to eat at the dining table without having to move a dozen things off? When was the last time you were all able to sit in the family room without having to move laundry and toys off the couch first or kick them out of the way as you walked? When is the last time you were able to sleep in your bed without having to
find
it first? (Do you see my raised hand here today?)
All you have to do is stop making excuses and stop saying "when" and start saying "now!" Make your home sing this week instead of waiting for something or some
one
to do it for you!
If you want to use your

blog header

or

profile picture

, use the "from the web" button on your right (after you click to link up). If you want to use a

picture

from your computer use the button on your left (unless the picture is on your blog)
.
Please let me know if you have any problems with linking up.
What are

you

doing or going to do today to make your home sing?
Please go
here
for instructions and/or ideas and come back here to link up to join us today! Please do not put your own "Making Your Home Sing Monday" Linky on your blog. As always, please don't forget to link to this post. Also, please don't forgot to leave me a comment!