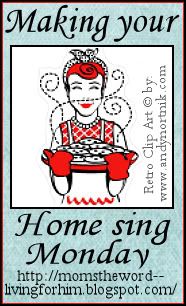 Making Your Home Sing Monday meme! Every day you are doing something to make your house into a home for yourself and your family (if you have one). My point with each Monday post is, what are you doing or going to do today to make your home sing?
It can be an attitude or an action. Motivation, our attitude, baking, encouraging our husband or children (if we have either one), organization, cleaning, saving money....the opportunities are endless.

My baby boy is moving out of state this week! Well, not my youngest baby but my
oldest
baby.
Here is a post
that he did if you've never "met" him before. He has transferred to another college which is out of state for his last two years. The first two years were spent at a junior college and he was able to live at home (it's cheaper that way). Then he worked for a year to save money (and lived at home), and now he going to finish his last two years.
I am excited for him, but I know that I will miss him very much. Fortunately he will be able to come home from time to time, but this is the first "official" leaving of the nest.
This is what we prepare our children for, to leave the nest. We aren't really raising children, in a way we are raising adults. We raise them to leave us and go out to venture on their own.
We hope and pray that we can instill moral and spiritual values, love for God, family, country, a work ethic, responsibility, etc., in them.
We have days where we despair that they will ever "get" it, and times where we despair that we have failed them because we aren't the "perfect" parent that we always hoped and prayed we'd be.
When they are little we make the decisions for them, until they are old enough and mature enough to make decisions on their own. As they get older we give them the responsibility to make some decisions, but we are right there with them if they need us.
We make it safe for them to test out their decision-making skills, and we're there to catch them if they fall. We're there to remind them that sometimes more can be learned through a "failure" than through a "success."
Then, in many ways, we become "trusted advisors" as they maneuver through their teens years and onward. We encourage them to look at all the angles, to pray about it, and to make their best decision. We try to encourage them to broaden their world view, so that they are looking to the needs of others as well, and not just themselves. Seeking to encourage them to look beyond themselves and consider the feelings of others, when the circumstances demand it.
Sometimes we're there to say "no" and make a decision
for
them, when they don't quite have the judgment or experience to know that it's not a good idea.
My baby is leaving the nest, and I couldn't be more proud of the man he has become. (I am proud of my youngest son as well, but this post is about the oldest). To those of you who still have young children at home, I encourage you to stay the course. I ask you,
do you know what you believe?
Do you know what, specifically, you are trying to instill in your children?
Because I will tell you that if you don't know what you are seeking them to learn, someone else will teach if
for
you. The t.v. will teach it for you, the movies, the music that they listen to, the friends they hang around with. Let
your
voice be the voice of reason in his head when his friends are calling him in a wrong direction.
Pray that he will have a heart for God, and that he will be sensitive to the leading of the Holy Spirit. Set an example for him, don't expect the church to teach it to him. Yes, it will, but this is your responsibility as his parent. Don't abdicate it.
Don't be afraid to say "no" when the situation warrants it. Don't be afraid to be the mom instead of his "friend." He/she
needs
you to be strong when he can't be.
You may be unpopular for a moment, but it won't last forever. I would rather be unpopular with a much needed "no," than popular with a dangerous "yes." We don't have many years to raise our children, let's make our homes sing with being intentional about it!
This week I will be making sure that I am available to my son as needed, making some of his favorite meals, etc. I know he will be back to visit, but this is the first big step towards him leaving the nest, and my momma heart misses him already!
BTW, I am doing a thumbnail linky again. If you want to use your

blog header

or

profile picture

, use the "from the web" button on your right (after you click to link up). If you want to use a

picture

from your computer use the button on your left (unless the picture is on your blog)
.
I have put my own header and profile picture links below as an example for you to see. Please let me know if you have any problems with linking up or want me to do it for you!
What are

you

doing or going to do today to make your home sing?
Please go
here
for instructions and/or ideas and come back here to link up to join us today! Please do not put your own "Making Your Home Sing Monday" Linky on your blog. As always, please don't forget to link to this post. Also, please don't forgot to leave me a comment!