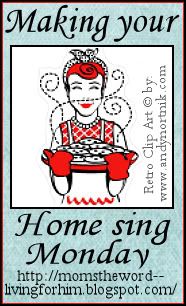 Welcome to the Making Your Home Sing Monday meme! Every day you are doing something to make your house into a home for yourself and your family (if you have one). My point with each Monday post is, what are you doing or going to do today to make your home sing?
It can be an attitude or an action. Motivation, our attitude, baking, encouraging our husband or children (if we have either one), organization, cleaning, saving money....the opportunities are endless.

Why are Mondays always so messy? Does anybody else feel like they have to dig out on Monday mornings?
Fridays are my "big" cleaning days, and so usually I would go into the weekend with a very clean house. Even if we entertained over the weekend, I would still clean up afterwards so the house would still be neat come Monday morning.
Well, not this week (and maybe even not this year or decade). Let's just call it
Messy Monday,
and pretend that everyone does it and I'm not alone!
We are re-doing the bathroom due to some leakage problems (the floor, not
me
, people). So since we put in a new floor we (meaning I) decided to tear down the old wallpaper and paint.
Since we couldn't get into the bathroom for a few days I had to take everything out of it that I thought we might possibly need. All this exciting stuff is sitting in my dining room.
Did you know that a toilet plunger doesn't really go with any decor other than bathroom decor? Even then I'm not so sure.
Tearing down that wallpaper has become a BEAR! I don't know what those people put it on with, but personally I think it's holding up the entire house. My hubby was helping with it, and he said he'd still be there 45 years later.
So, this week I have got to get that wallpaper down, because the mess is....well, a mess. We've tried scoring it, using wallpaper remover, and steaming it. All that work and we haven't even managed to take off a square foot. I'm telling ya, the people used a bond that I've only seen in mother and children to bind that thing to the wall. They will be bound together forever.
I also have to be careful because all that standing around is hard on my back. Who knew?
Also, I think that I relaxed a little to well this weekend, because I can tell you that there wasn't a lot of cleaning getting done. Sigh. I think Slacking, Slothful Saturday snuck up on me.
So for Messy Monday I will be lamenting the fact that the wallpaper is bound to my wall with eternal devotion, and maybe some glue. I will have to clean my house or give up and call it Messy
Month
instead of Messy Monday. Who's with me?
I will also be trying to figure out a way to
continue
to motivate myself so it won't be Messy Monday anymore.
BTW, I will be trying a thumbnail linky this time, so we'll see how it works. If you want to use your

blog header

or

profile picture

, use the "from the web" button on your right (after you click to link up). If you want to use a

picture

from your computer use the button on your left (unless the picture is on your blog)
.
I have put my own header and profile picture links below as an example for you to see. Please let me know if you have any problems with linking up or want me to do it for you!
What are

you

doing or going to do today to make your home sing?
Please go
here
for instructions and/or ideas and come back here to link up to join us today! Please do not put your own "Making Your Home Sing Monday" Linky on your blog. As always, please don't forget to link to this post. Also, please don't forgot to leave me a comment!