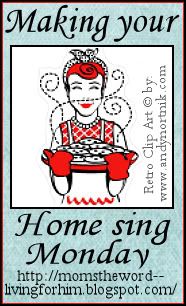 Welcome to the Making Your Home Sing Monday meme! Every day you are doing something to make your house into a home for yourself and your family (if you have one). My point with each Monday post is, what are you doing or going to do today to make your home sing?
It can be an attitude or an action. Motivation, our attitude, baking, encouraging our husband or children (if we have either one), organization, cleaning, saving money....the opportunities are endless.
How many times have you said (or heard someone say) my home isn't messy, it's just "lived in." I've said that, and sometimes I
still
say that! Do you have
too much
"life" in your home? On the kitchen counters, on the coffee table, on the entry hall floor? Do you find yourself calling it "life" instead of clutter?
People have all sorts of different cleaning "styles" and views on cleaning. Some have to have an immaculate home. Some need a little clutter to keep 'em happy. Some really want a neater home but just don't seem to know how to manage it.
Some blame their children for the fact that their home is a mess. Yes, children do make messes. Believe me, I only had two kids but I understand how hard it can be sometimes to keep things neat. Hard, but
not
impossible. Some blame their husbands.
Some
know
that they spend hours watching t.v. or playing on the computer, yet blame someone or something else for their own lack of discipline. Some say they just don't care if their home is a disaster. Some
do
care, deeply, and feel like a failure because they just don't know what to do to get it neat.
I do believe that there has to be
some
sense of order in the home. After all, how can you eat a meal if there are no clean dishes, and how can you cook a meal if you can't find the counter tops? How can you eat together as a family if there's no room at the table?
Before I learned how to clean and organize my own home, we pretty much only cleaned for company. Oh, I had plenty of time to clean, but I filled that time with other more fun or creative endeavors. Cleaning was rarely one of them.
I eventually dug my way out of the mess (you can read about it
here
). Still, over the years I have had places of chaos in my home and things get a bit messy, though not as bad as before. Matter of fact, some parts of it are messy right now. This last week we started a couple of projects and right now things are sort of all over the place.
If you all came over to visit me today, (I'd need a
bigger
home so y'all would fit), I will admit I'd feel the need to apologize for the messy parts.
Isn't it funny how we feel the need to apologize if our homes are messy? It's almost as if we have the expectation that our visitor thinks our home should be clean at all times. It's almost as if we assume that our visitor's home is immaculate.
The thing is, if we feel that our homes deserve to be "company clean" then shouldn't they be
family
clean? If we feel like company deserves to be in a neat, orderly home, don't our families deserve that even
more?
Because they live there? Some people will knock themselves out to "impress" their company, while their families live in chaos the rest of the week. I know I used to! Who are you cleaning
for,
people?
A family needs to be able to relax and be comfortable in their own home. Does that mean it must be messy at all times in order to do so? Some people use this reasoning as an excuse
not
to clean their homes. There needs to be a balance. Many people don't clean before the company comes because their home is already neat. So they clean
after
the company leaves.
If you go over to a friend's house and spend the evening in her clean home, and feel depressed when you come back to yours, if you begin cleaning your home and the kids ask "Why are you cleaning? Is
company
coming?"........then maybe it's time to do some good pre-Fall cleaning and make your home sing this week!
BTW, I am doing a thumbnail linky again. If you want to use your

blog header

or

profile picture

, use the "from the web" button on your right (after you click to link up). If you want to use a

picture

from your computer use the button on your left (unless the picture is on your blog)
.
I have put my own header and profile picture links below as an example for you to see. Please let me know if you have any problems with linking up or want me to do it for you!
What are

you

doing or going to do today to make your home sing?
Please go
here
for instructions and/or ideas and come back here to link up to join us today! Please do not put your own "Making Your Home Sing Monday" Linky on your blog. As always, please don't forget to link to this post. Also, please don't forgot to leave me a comment!