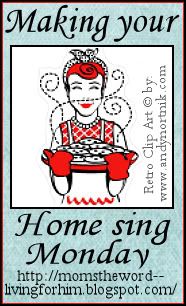 Welcome to the Making Your Home Sing Monday meme! Every day you are doing something to make your house into a home for yourself and your family (if you have one). My point with each Monday post is, what are you doing or going to do today to make your home sing?
It can be an attitude or an action. Motivation, our attitude, baking, encouraging our husband or children (if we have either one), organization, cleaning, saving money....the opportunities are endless.
You know, I am really curious here..... if you knock yourself out to "company" clean, how is it different from your "family" clean? What do you do differently, and should you be doing
anything
differently?
Admit it, either you know people who knock themselves out to company clean, or you've done it yourself. I know
I
have. You work your behind off to get the house clean enough for company, but don't seem to mind that your family has been living in chaos for the weeks leading up to that, and will for the weeks
after
that.
I used to live like that, until I decided not to live like that anymore. Until I decided that it was worth the extra effort to live in a home that I didn't need to be embarrassed about if someone dropped by. Until I decided to stop making excuses and start making some changes.
Do you find yourself making excuses? Are you full of defensive words? Do you feel guilty because you know that you could have mopped that floor, or reorganized that closet, cleaned that bathroom or read that book to your child, but you spent two hours playing Farmville or reading blogs that day instead?
Do you run around in a panic before hubby comes home, madly picking up the house because you don't want him to wonder what you did all day?
Surely you all know someone who says she has no time for cooking or housework and yet fills your facebook page with all the hours and hours of games she plays online.
If I am not careful, I can slack off and begin to fall back into old habits. For example, I have not had "time" to mop my floors or clean the bathrooms around here, but amazingly I've had time to go online, go to the thrift store, go out to lunch, watch a little t.v., read a magazine, etc.
Isn't that amazing how I can't seem to find time to clean the bathrooms but can find time for fun? I have company coming later in the week and will I find time to get to the bathrooms by then? You betcha I will!
Have I been willing to let my family walk into a messy bathroom, walk across a yucky floor, and sit in a cluttered family room yesterday, and the day before that and the day before that.....yup!
Does that mean I don't love them? No. But lately I've been loving myself a bit more.
We need to know when to much is to much, and when "me" time needs to be cut short for
"we"
time. We need to know when it is time to reign ourselves in and say "no" to facebook or "no" to our favorite fun activities and "yes" to bathroom floors.
Because "company" will come and go, but family is here to stay.
Make your home sing this week with some "we" time!
What are

you

doing or going to do today to make your home sing?
Please go
here
for instructions and/or ideas and come back here to link up to join us today! Please do not put your own "Making Your Home Sing Monday" Linky on your blog. As always, please don't forget to link to this post. Also, please don't forgot to leave me a comment!
BTW, I am doing a thumbnail linky again. If you want to use your

blog header

or

profile picture

, use the "from the web" button on your right (after you click to link up). If you want to use a

picture

from your computer use the button on your left (unless the picture is on your blog)
.
I have put my own header and profile picture links below as an example for you to see. Please let me know if you have any problems with linking up or want me to do it for you!