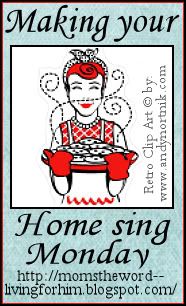 Welcome to the Making Your Home Sing Monday meme! Every day you are doing something to make your house into a home for yourself and your family (if you have one). My point with each Monday post is, what are you doing or going to do today to make your home sing?
It can be an attitude or an action. Motivation, our attitude, baking, encouraging our husband or children (if we have either one), organization, cleaning, saving money....the opportunities are endless.

Space. I love space. No, I don't mean outer space but room space.
However, I find myself getting a little lazy, and that "space" is filling up with clutter. Maybe it's because I hurt my back and started taking it easy, I don't know. Frankly, I just think that sometimes it's more fun to be lazy than to work!
Did you know that my bathroom counter is full of clutter? My bathroom counter used to be almost always clutter free, because I put things away when I'm done with them (and so does anyone else who uses it).
If you are on facebook with me, you will know that recently I was reaching for the hairspray and grabbed the tub and tile cleaner instead. On the
up
side, we know that it will make your hair mold and mildew free.
On the down side, it means that I am letting
bad
habits replace good ones. For years I have had some really good habits in place, and lately I am allowing a few bad ones to creep in again.
The thing is, it's so easy to excuse the clutter because most of the room is clean. Sometimes it's just one corner, or one table, or one chair that has a few things piled on it.
When you look at the room you think "Well, it's
mostly
clean, and I can clean up that mess in five minutes."
Have you ever said that? I have. But then, sometimes I don't clean up that mess because it's so "easy" to do that I know I'll get to it later that day, and then I don't.
I've also noticed that if you set one thing down on a table or counter, someone else will come and set one thing down, and then another and another and pretty soon you've got a full blown mess monster on your hands.
I don't know about you but I don't want to settle for "mostly" or "good enough" when it comes to my home. My family deserves better than that and frankly, so do I. I know that I
have
not
given my best effort lately. If I were, I could settle for "mostly" or even "not gonna happen" and there are times for that, like when I first injured my back or if you just had a baby, etc. But now I can do a little more.
So this week I will make my home sing by cleaning up those little clutter spots (and some not so little) before they become big clutter monsters. I would rather spend a little time now than a lot of time later, wouldn't you?
So what are
you
settling for? Mostly? Good enough? Are you giving it your best effort? If you're already knocking yourself out and can't, don't feel bad, that's o.k. Sometimes we have to know when to back off and slow down so that we aren't overwhelmed. Sometimes other things (or people) have to come first and "good enough" is good enough. But sometimes we know we need to step it up, and maybe your time is now!
What are

you

doing or going to do today to make your home sing?
Please go
here
for instructions and/or ideas and come back here to link up to join us today! Please do not put your own "Making Your Home Sing Monday" Linky on your blog. As always, please don't forget to link to this post. Also, please don't forgot to leave me a comment!