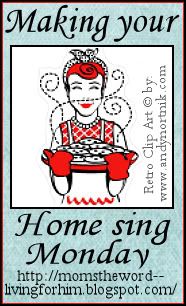 Welcome to the Making Your Home Sing Monday meme! Every day you are doing something to make your house into a home for yourself and your family (if you have one). My point with each Monday post is, what are you doing or going to do today to make your home sing?
It can be an attitude or an action. Motivation, our attitude, baking, encouraging our husband or children (if we have either one), organization, cleaning, saving money....the opportunities are endless.
When was the last time you smiled? When was the last time you laughed? When was the last time you frowned or grumbled or complained as you went about your home duties? Are people surprised when they see a frown on your face? Are they surprised when they see a

smile?



As a wife and a mom, I know that sometimes we can take our home duties so seriously. Sometimes we can be so "job" oriented that we forget to be "wife" or "mom" oriented. We can get all stressed about getting things done that we forget about who we're doing it

for

. We forget to enjoy our homes and our families.

Are your words seasoned with love or do you mostly snap and grumble at your family? Do you complain about all the laundry they make or the fact that you have to make dinner

again

? Do you find yourself whining and nagging and complaining more than you'd like?

Have you ever timed yourself doing a much disliked chore? Some people can't stand emptying the dishwasher. Have you ever timed that? It's a piece of cake time-wise! You can stand anything for that length of time, can't you?

Do you think your attitude is important? Do you think your attitude affects how you view things? Does your attitude affect your actions? We can

choose

our attitude, you know. We can choose to be happy, and we can choose contentment. It's not easy, but it's a choice we

can

make.

There is always that one child who is prone to spilling their milk at dinner time (*cough*

that was me

*cough). They are a milk magnet. There is always that child who tracks in dirt right after you mopped the floor. There is always that husband who will forget to call you when they're going to be late.

We don't have to let the unexpected ruin our entire day. We don't have to approach each day so seriously that we take all the joy out of it for everyone, including ourselves. We don't have to take every snag or interruption so personally.

Let's take joy in our home and our families. Put a smile on your face. If you don't feel it, do it anyway. Fake it till you make it. Smile at your husband, at your children, at your coworkers, at your boss. Put a smile in your voice, in your eyes, in your heart and make your home sing this week!