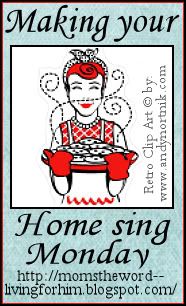 Welcome to the Making Your Home Sing Monday meme! Every day you are doing something to make your house into a home for yourself and your family (if you have one). My point with each Monday post is, what are you doing or going to do today to make your home sing?
It can be an attitude or an action. Motivation, our attitude, baking, encouraging our husband or children (if we have either one), organization, cleaning, saving money....the opportunities are endless.
Do you guys ever find yourself not mentioning things on your blog because you feel like people won't believe you and that you're just making stuff up for attention?
I mean, I know that you would
believe
me, but sometimes I just don't mention ongoing stuff because, you know, you have a stressful week and it sounds as if your life is a soap opera? I'll bet you all have days or weeks like that, right? And also, if you do complain it does sound like you want attention.
So I'm not complaining and I don't want your sympathy as things are o.k., but I will tell you two things that are going on to explain my absence.
First, my mom has been ill and has been in and out of the hospital lately. She is back in the hospital again. I am concerned about her but know she is in God's hands and she is breathing soooo much better now. However, I would love your prayers as she seems to be in and out of it every few weeks lately.
Also, I injured my back last week. I think I did it by an evil exercise or by lifting a heavy item improperly. Yes, I knew I should have waited for someone else, and I know I should have bent with the knees but I didn't want to.
By Wednesday I was in severe pain and throwing up because it hurt so bad. I couldn't stand, walk or sit without pain, and was having some muscle spasms. Thank the Lord for pain killers (and doctors)! I have a severely sprained back muscle and muscle spasms that pushed my spine into a curve (or something like that the doctor said). The doctor said it'll straighten back out again so no big deal.
Anyway, it's no big deal except that I am on "light activity" and having to have therapy for the next 4-6 weeks. I am hoping that maybe they'll teach me what to do and let me do it at home, instead of going to a doctor's office a couple of times a week.
So, consequently I really haven't felt much like blogging. When the pain meds kick in I am feeling less pain but kind of tired and in a fog. When the pain meds are wearing off, I don't feel like blogging.
So, this is my life as of today. I have been "benched" and can't play in the game for a bit.
I am having to easy up on my summer cleaning frenzy as I am not supposed to do heavy lifting or bending or twisting for a bit.
However, there are lots of things I
can
do! So, I plan on making my home sing this week by making some menu plans, and doing some light cleaning so that things don't fall apart around here. I am also aware that God is in this, and that for now He is telling me to slow down. I also have a family that is more than willing to bend, twist or lift for me!
There are lots of people out there that live in constant pain, whether it's physical or emotional. This is just a temporary setback for me and I'll be back to "normal" soon. But there are many people out there who have to live with chronic pain and they need our prayer and our support. If you know someone who is, I encourage you to give them a call or send a card today and make their heart sing this week just by letting them know that you care.
What are

you

doing or going to do today to make your home sing?
Please go
here
for instructions and/or ideas and come back here to link up to join us today! Please do not put your own Making Your Home Sing Monday MckLinky on your blog. As always, please don't forget to link to this post. Also, please don't forgot to leave me a comment!