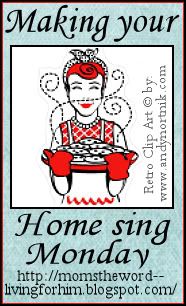 Welcome to the Making Your Home Sing Monday meme! Every day you are doing something to make your house into a home for yourself and your family (if you have one). My point with each Monday post is, what are you doing or going to do today to make your home sing?
It can be an attitude or an action. Motivation, our attitude, baking, encouraging our husband or children (if we have either one), organization, cleaning, saving money....the opportunities are endless.
When we moved into our current home, I was so excited. I even told someone it was my "dream" home. It was twice as big as our previous home, had many extras that I loved, the laundry room was not a dungeon, and the house was 100% finished, unlike our old home.

In fact, when we moved in we didn't have enough furniture to fill the rooms, so some of the rooms looked rather empty. But that was o.k., I loved it anyway.

Now fast forward to all these years later, and suddenly we have more furniture than I know what to do with (especially after my mom moved in with us) and the home that seemed so big when the kids were little seems smaller now. Over the years we managed to collect a lot of "things."

You know, it's so easy to look at the negatives in the home you are living in. It's so easy to get frustrated and wonder who designed that kitchen and

what were they thinking

??????

It's just so easy to want to look at moving as a "cure-all" and be frustrated when circumstances are such that you can't move.

I can't tell you the number of times that I have heard about people who don't fix their homes up until they are ready to sell the place. People just live with the colors or things that they don't like, until they decide to fix the place up so they can move. In our old home, we lived with a bedroom color that we couldn't stand and never bothered repainting, until we decided to move.

We can cause ourselves to have a spirit of discontent, and to make ourselves miserable (and others) by our constant complaining about this or that that we have to put up with in our homes.

Right now there are people out there who are losing their homes to foreclosure. Our neighbor up the street was one of them. We have friends who may be facing the same situation. Home takes on a whole new meaning when you are faced with the possibility of losing it and wondering where you are going to live and how you will pay for it.

Are you thankful for your home today? Maybe it doesn't have as many bathrooms or bedrooms as you'd like, but are you

thankful

for it?

Do you have so much "stuff" that it is crowding you out? Declutter! Does the color of your kitchen bring you down, or do you have wallpaper you can't stand? Paint is cheap! Instead of dwelling on the negatives, think about what the positives are and make them work for you.

You can make anything into a home, when you put YOU into it. Be thankful for your home this week, put a little beauty into it whether it is decluttering, playing music, lighting candles, cleaning, or just the sound of joyous laughter and thankfulness to God. Make your home sing this week!