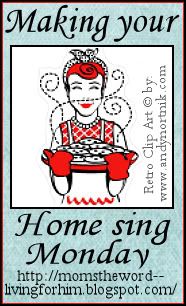 Welcome to the Making Your Home Sing Monday meme! Every day you are doing something to make your house into a home for yourself and your family (if you have one). My point with each Monday post is, what are you doing or going to do today to make your home sing?
It can be an attitude or an action. Motivation, our attitude, baking, encouraging our husband or children (if we have either one), organization, cleaning, saving money....the opportunities are endless.
We are managers of our homes.
If you were given a review based on how you managed your home, would you pass with flying colors? Would you be put on probation? Or would you be fired? I have times where, if I were judged based on how I managed my home that week, I am pretty sure that I would be fired.
Do you have trouble sometimes, like me? Let's make a list of our priorities. Then make a list of the main activities that take up our time.
Do our activities reflect our priorities?
If the Lord is a high priority, do our actions support that? Do our activities support our love for our husbands, our children and our home?
Are we spending way to much time on the wrong priorities? Are we out of balance?
If we truly desire to place our homes and family first, are we then constantly putting them
second?
Is laundry always taking second place to blogging? Is dinner always an afterthought? Is cleaning second to the t.v. program? Do we say one thing and yet do another? Do our actions match our words?
One of the difficult things about being at home is learning to manage our time. I don't know about you, but I can easily be tempted by a phone call to go do something fun. After all, the laundry will still be waiting for me when I get back, right? I deserve to get out, right? But to much playtime and I have a Mt. Never-Rest of laundry that is overwhelming!
Time management is learning to manage our schedule, not letting our schedule manage us. It's learning when to say "no" to the t.v., and the clothes shopping trips, and the lunches out when we need to, and saying "yes" to the laundry, and the cleaning, and the dinner preparations.
My husband doesn't get up every morning and decide whether or not to go to work that day. He just
goes
. He doesn't get up and say "Well, I'd rather do
this
today instead." He doesn't do everything he wants to do that day and squeeze his job in when and if he can.
He doesn't sleep in if he feels like it. He goes to work. He is consistent. That's because he looks upon his work as his job, his responsibility, a way to provide for his family. He is also fortunate in that he loves his job.
Do you love your job of making a home for yourself and your family? Do you
love
it? Do you have a smile on your face as you go about your business, or a permanent frown? Are you singing or complaining?
It's not easy to put someone else's needs before your own. It's not easy to give up on something fun in order to do something that needs doing. But daily, we are called to do that.
We are managers of our homes. What kind of manager do we want to be? A good manager or a poor manager? Do we want to send our families out into the world with full stomachs, clean clothes, matching shoes, a whispered prayer and a smile on their face? Or do we want to rush them out the door with an empty stomach, yesterday's clothes, and the memory of our growling "Hurry up or you'll be late!!!!" in their ear?
We can manage our homes, or let our homes manage us. Who's in charge here anyway? Let's take charge of our homes and make them sing!
What are

you

doing or going to do today to make your home sing?
Please go
here
for instructions and/or ideas and come back here to link up to join us today! Please do not put your own Making Your Home Sing Monday MckLinky on your blog. As always, please don't forget to link to this post. Also, please don't forgot to leave me a comment!