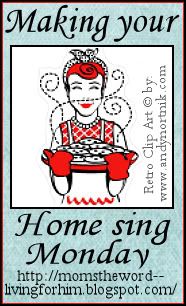 Welcome to the Making Your Home Sing Monday meme! Every day you are doing something to make your house into a home for yourself and your family (if you have one). My point with each Monday post is, what are you doing or going to do today to make your home sing?
It can be an attitude or an action. Motivation, our attitude, baking, encouraging our husband or children (if we have either one), organization, cleaning, saving money....the opportunities are endless.
The nice thing about Mother's Day is that it's intentional. It's a day set aside in which we honor our own mothers and our children honor us.....or at least be nicer to us, haha!
My purpose for this meme is to be
intentional
. It is so easy to go about your day being busy cooking, cleaning, diapering, etc., and be on auto-pilot. I mean seriously, how many of us could practically fold laundry in our sleep? Note I said "practically." Wouldn't it be nice if we
could
do laundry in our sleep?
When you tuck your children in bed for the night, are you
there
in the moment? Are you there listening to what they're saying? Are you
there
when they kiss you goodnight, or are you thinking about what you're going to do now that they're finally in bed?
Are you paying attention when your husband tells you how his day went, or are you thinking "I can top
that
, dude!?" Are you listening to him or just to busy always thinking about what you're going to say next?
I know that I am guilty of only half-listening sometimes. I am guilty of thinking about what I have to do
next
, or wondering if I should do this or that now or later.
I am guilty of cooking, cleaning, and doing all the wife and mom things we have to do, without being intentional about them. I am guilty of doing them to get them done, but not really doing them to bless my family.
I am guilty of doing them to bless myself and get them over with. Not that there is anything wrong with wanting to be done with something, except that I am not being intentional when I am thinking about it as a chore. I am not thinking about how I can bless my family.
How can we bless our families when we're cooking? How about trying a new recipe, or making a favorite meal, or putting candles out on the table, or google how to fold the napkins in a fun way.
How can we bless them when we're doing laundry? How about mending or ironing a favorite shirt, or putting their clothes away
for
them, instead of waiting for them to do it.
How can we bless them when we're cleaning? How about making their bed for them and putting a sweet note on their pillow? How about putting their shoes away, or their backpacks away and do it with a smile and an "I love you!" instead of a frown.
How can we bless our families while we're going about the "business" of being a mom? Be intentional. Look for opportunities to bless them. Look for ways to be in the moment.
Turn off the t.v. or "mute" it when your husband or children comes into the room to say something to say to you. Give them your full attention. Does your family feel like they have to compete with the t.v. (or the computer) for your attention? Do you have one eye on them and one on the t.v. when they're talking to you?
As the mother of a teenager I can tell you that you will miss many important conversations if you don't mute the t.v., or if you don't turn away from the computer. Teenagers will not tell you the important things that they NEED to tell you, if they feel that you aren't really listening to them. There are times when they need to talk and share what's on their hearts, but they won't if they feel like your interest is elsewhere. Many a light, simple talk turned into a deeper, important conversation because a mom was listening.
Be intentional. Be there in the moment. Don't make them compete for your attention. This will make them smile and make your home sing this week!
What are

you

doing or going to do today to make your home sing?
Please go
here
for instructions and/or ideas and come back here to link up to join us today! Please do not put your own Making Your Home Sing Monday MckLinky on your blog. As always, please don't forget to link to this post. Also, please don't forgot to leave me a comment!