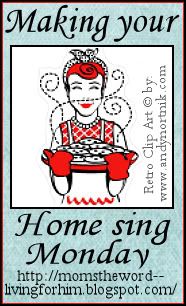 Welcome to the Making Your Home Sing Monday meme! Every day you are doing something to make your house into a home for yourself and your family (if you have one). My point with each Monday post is, what are you doing or going to do today to make your home sing?
It can be an attitude or an action. Motivation, our attitude, baking, encouraging our husband or children (if we have either one), organization, cleaning, saving money....the opportunities are endless.
One year ago I did a meme post talking about how I always have big,
big
,
big
plans for summer. That hasn't changed. I always have something that needs doing and I think "This will be a perfect summer project!"
Then summer comes, and
goes
, and I think "Where did the time go?" and I sometimes feel like I didn't get most of the things accomplished that I wanted to.
That's partially because the "lazy" days of summer call to me. Sunny days, the beautiful, warm sandy beach, a cold pop (or water!), a good book and a comfy spot all call to me. This is also because our family gets very busy with summer activities and things, just as yours does.
Last year I decided to
do a
Summer
Cleaning
Frenzy
and invited you all to join me. This year I'll be doing my own little version of a cleaning frenzy. Why don't you join me? Just pick a room of the week that you want to focus on, and do a blog post about it. That will give you some accountability, right?
After all, aren't you more likely to
do
something if you tell someone about it? Won't you be more motivated to work on a task if you know someone is rooting for you, or looking forward to hearing how it went? Wouldn't you rather go into Fall with a neat and orderly home?
So which room would
you
start with, hmmmm? Your
Room of Doom?
You know that room. The one room that you dread walking into or by, because you know it really needs a good cleaning. The room you have "nightmares" about, haha!
The entry hall because that's the room everyone first sees when they come into your home? The front porch because that's what people see even
before
they make it inside?
What does your front porch say about you? What does your yard say? You don't even want to know what my
weeds
garden says about me!
Which room? The bathroom because it gets messy fast? The master bedroom because you want it to be peaceful and restful instead of a bunch of clutter and disorder calling out to you?
Perhaps it's not just cleaning you want to do. Perhaps you have a room you want to paint, or some furniture you'd like to move around. Do you have some closets that need decluttering?
What is it that you need to
do?
Let's do it and feel good about it afterward.
A toothache hurts like crazy and getting it fixed isn't fun, but isn't it better to get it taken care of rather than living with the pain? What room is the "toothache" in your house?
For this next week I will be working on my front porch and my entry hall. It may seem like a huge list, but it's really not as bad as it looks, especially if you do a little each day. It doesn't take long to sweep cobwebs or wash the glass in a door. Going room by room and getting things done is how I'll be making my home sing this summer, beginning this week.
FRONT PORCH
Toss dead plants/weed
Sweep porch
Sweep cobwebs from eaves
Wash glass in door
Wash outside of windows
ENTRY & HALLWAY
Shake rug and/or wash if haven't washed it already
Sweep and mop floor
Vacuum stairs
Dust furniture, decorations, pictures, and baseboards
Clean glass in picture frames and mirrors
Wipe down railing, banisters or walls as needed
Clean light fixtures and wash globes
Wipe down switch plates
Wash table cover
Organize coat closet
Organize linen hall closet
Organize shoe basket
Replace light bulbs as needed
What are

you

doing or going to do today to make your home sing?
Please go
here
for instructions and/or ideas and come back here to link up to join us today! Please do not put your own Making Your Home Sing Monday MckLinky on your blog. As always, please don't forget to link to this post. Also, please don't forgot to leave me a comment!