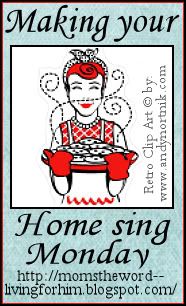 Welcome to the Making Your Home Sing Monday meme! Every day you are doing something to make your house into a home for yourself and your family (if you have one). My point with each Monday post is, what are you doing or going to do today to make your home sing?
It can be an attitude or an action. Motivation, our attitude, baking, encouraging our husband or children (if we have either one), organization, cleaning, saving money....the opportunities are endless.
Each week I prayerfully and thoughtfully sit here and think "What can I focus on this week to make my home "sing?" Each week I have grand plans and grand ideas. Each week I fail.
If we set out a plan, and aren't able to work our plan 100%, we fail if our expectation is that we have to do it perfectly. We fail if we believe that everything has to come together perfectly, and every plan has to be executed
perfectly
in order to bless our homes.
People, you have my permission to fail at perfection
. Not that you
needed
anyone's permission, but if you are waiting for it, here it is. Go ahead. Fail.
I can assure you that I never quite succeed in my enthusiastic, energetic ideas to do this or that for the week. I never quite get every single thing accomplished that I had hoped to do. It doesn't all come together as I hoped it would. Sometimes, I just don't even feel like doing something at all, even though I know it needs to be done.
But does that mean I quit trying? Does that mean that I give up trying to bless my home because I can't bless it as well or as much as I'd like to? Does that mean I should just give up?
Does that mean that I should just not even try because I know I am never going to live up to my own expectations of being the "perfect" wife and mother? It's just not going to happen and we do not have to be perfect. There is only One who is perfect. We put pressure on ourselves and feel guilty when we don't live up to our own expectation of perfection.
For those of you with a perfectionist nature, you know that there are things you won't even
start
, because you know you don't have the time (or the means) to do it exactly the way you feel it needs to be done. So you know that you won't even start.
How many children do you know who just get up and walk perfectly without even trying before? How many children walk those first few steps without wobbling, falling, or even ever having at least crawled first? Should they just give up and
crawl
the rest of their lives?
Is your home a mess? Your checkbook in a tangle? Did you lose your patience with your children? Did you snap at your husband? Is your laundry pile reaching epic proportions?
O.k., so you're not perfect. You have failed to be the "perfect" homemaker you always thought you could be or
should
be. Are you going to live in that and embrace it? Never trying to "walk" because you've fallen so many times? Are you giving up?
Focus on what you ARE doing well. Focus on the things that you are doing that bless your family. Focus on the fact that
today is a new day
, and you still have time. You have time to make the difference you want to make. You have time to say "I'm sorry" if you need to.
You have time to start that laundry. You have time to balance that checkbook. You have time to start to tackle that messy corner. You have time to smile at your loved ones. Stop overwhelming yourself with your own expectations of perfection. Just start where you are with baby steps and make your home sing!
What are

you

doing or going to do today to make your home sing?
Please go
here
for instructions and/or ideas and come back here to link up to join us today! Please do not put your own Making Your Home Sing Monday MckLinky on your blog. As always, please don't forget to link to this post. Also, please don't forgot to leave me a comment!