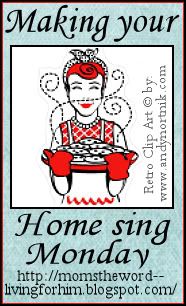 Welcome to the Making Your Home Sing Monday meme! Every day you are doing something to make your house into a home for yourself and your family (if you have one). My point with each Monday post is, what are you doing or going to do today to make your home sing?
It can be an attitude or an action. Motivation, our attitude, baking, encouraging our husband or children (if we have either one), organization, cleaning, saving money....the opportunities are endless.
Wow. We had an amazing weekend with our church's youth group and it's leaders and helpers. Now it's time to retake my home, which was left to fend for itself as we ran in and out and back and forth to the church this weekend.
We would run in to pick something up (or do something) and then back to the church. Our dogs were thrilled every time one of us would come in to let them out, and then feel dejected again as we left. I am pretty sure that my clutter was glad to see me leave, however. It wanted to be left alone so it could multiply.
Laundry is piling up in epic proportions, and the dishwasher needs to be unloaded. The Sunday newspaper is scattered around as people read it, instead of being put in its proper place. I have a load of laundry patiently waiting to be folded too.
Plus, I am tired!
Do you ever feel like you could just curl up and take a nap? I am not a nap taker, but I think I could learn to like it right about now.
So, here's my plan to make my home sing: I am going to relax a bit and recover from our busy weekend. Oh, it was awesome people! If you're on facebook with me, I'll be posting some pictures later.
The youth of our church participated in the
30 Hour Famine
sponsored by World Vision. They fasted from noon on Friday until 6:00 p.m. Saturday night. That's 30 hours. Plus, they stayed at the church from Friday to Saturday.
They turned over their cell phones for safe keeping. Yup, they went cold turkey without being able to text! They slept in their clothes on the hard floor (with no pillows or blankets for comfort in order to truly "experience" what it's like), played games that were famine-related, made 150 sandwiches that they weren't allowed to eat because they were fasting, and later were eager to hand the sack lunches out to a lot of hungry people. Then they marched joyously with signs and sang and hollered.
Their enthusiasm, humility and desire to make a difference in their world is humbling! These kids raised around $3,000 for World Vision to fight hunger, and my husband and I were blessed to be able to hang out with them this weekend.
However, I am now tired, lol! So today (Sunday) I will relax and recharge. Tomorrow I will begin to tackle my home and tame it into submission. But today, I will make my home sing by clearing its throat a bit.....it won't really be singing till tomorrow.
What are

you

doing or going to do today to make your home sing?
Please go
here
for instructions and/or ideas and come back here to link up to join us today! Please do not put your own Making Your Home Sing Monday MckLinky on your blog. As always, please don't forget to link to this post. Also, please don't forgot to leave me a comment!