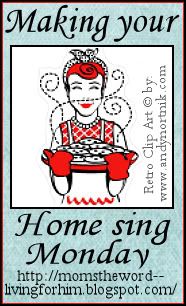 Welcome to the Making Your Home Sing Monday meme! Every day you are doing something to make your house into a home for yourself and your family (if you have one). My point with each Monday post is, what are you doing or going to do today to make your home sing?
It can be an attitude or an action. Motivation, our attitude, baking, encouraging our husband or children (if we have either one), organization, cleaning, saving money....the opportunities are endless.
What heralds Spring to you? Is it the bouts of sunshine? The lack of snow on the ground? Flowers? The singing of birds?
Spring is on it's way, people. Can you believe it? I can't.
I love spring cleaning. Don't you? I just love the "idea" of it. Did your mom ever do spring cleaning? Mine did. When I was little we had a big ole' house with three floors, and man there was a lot of cleaning to do.
My mom did most of it herself.
Yup, you heard right. Huge massive house, and my mom did most of the work. Except when spring cleaning rolled around.
Then she'd ask for help. I remember hanging rugs on the clothes line and "beating" them. Don't ask me why we didn't use a vacuum. I have no idea.
The funny thing is, we don't need to do the same kinds of spring cleaning today as they used to do. Our homes aren't filled with lamps that put soot everywhere. We can vacuum throughout the year, sweep and mop as needed, spot clean things, etc.
Still, the idea of spring cleaning is pleasing to me. A fresh start. Knowing everything is neat and in order. Windows are cleaned, the silverware drawer is crumb free, walls are spot cleaned as needed. That's spring cleaning. It's also when I clean out the cupboards, reorganize the closets, straighten up the drawers, etc.
I walk around each room and make a list of what I think needs to be done. For example,
here
are a couple of lists from my
Summer Cleaning Frenzy
last year. I also do a little each day. I don't do a marathon clean in one week, I spread it out over a few.
Marathon cleaning can wipe you out, plus the rest of the house tends to fall apart while you're hyper focusing in one room. Doing a little at a time, and spreading it out, leaves you with energy to maintain a sense of order in the rest of the house. Especially the rooms you've already cleaned.
Have you ever wanted to move just so that you can have a fresh start in a new home? Well, you don't have to move to do that. You can just start where you are and give your house a good ole' spring cleaning. That's how I'll be making my home sing for the next few weeks. Feel free to join me!
What are

you

doing or going to do today to make your home sing?
Please go
here
for instructions and/or ideas and come back here to link up to join us today! Please do not put your own Making Your Home Sing Monday Linky on your blog. As always, please don't forget to link to this post. Also, please don't forgot to leave me a comment!