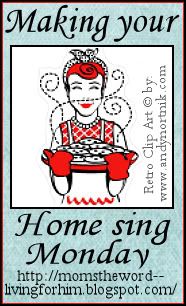 Welcome to the Making Your Home Sing Monday meme! Every day you are doing something to make your house into a home for yourself and your family (if you have one). My point with each Monday post is, what are you doing or going to do today to make your home sing?
It can be an attitude or an action. Motivation, our attitude, baking, encouraging our husband or children (if we have either one), organization, cleaning, saving money....the opportunities are endless.
How many projects do you have sitting around your house? How many "starts" do you have that are waiting for the "finish?" How many times have you started something and not finished it?
Now, ask me about the things around the house that I dragged out to do and have yet to put back. Ask me if I've finished what I started around here? Go on, ask me!
Stop.
Nagging.
Me.
Thank you.
"Finish what you started." Who hasn't heard that? So I have some Christmas decorations out that I'm supposed to be making some decisions on. Do they go or do they stay? Shouldn't I have done that at Christmas time? Why is it March and I am still avoiding dealing with them? Ugh.
I have some home accessories that I brought out in order to change up the ones I already have. But then I sort of lost my desire to do that so they're still out, along with the ones I already have out. They're staring me in the face and laughing out loud. Rude.
I have waaaaay to many baskets sitting around, begging me to either find a spot for them or let them find someone else who will love them.
I began to change my living room from its seasonal fall/winter look to its spring/summer look, then I just never went back and finished. It looks way to cluttered and some of the spring stuff is still in there with the fall stuff.
I bought a lovely metal star to hang up and it's still sitting on the floor patiently waiting for
someone
(meaning husband) to hang it up. Of course, my husband is waiting for
someone
(meaning me) to decide where it's supposed to go. (If you knew my aim you wouldn't ask about my problem with nails and walls)
I have folded socks sitting next to the telephone. Don't ask. At least they're clean.
Of course I'm still working on the
spring cleaning
that I mentioned last week (and I have some items just waiting to go to the thrift store to prove it). Need to finish what I started there as well.
I have clutter sitting around that doesn't classify as a project, but since I started cleaning and then stopped it falls under the "finish what you started."
Sometimes you need to sit down and evaluate whether you want to continue on with a project that you started (as I eventually did with some craft projects). People change and sometimes our tastes or likes change and we're just not "into" something anymore.
Sometimes we hold onto things for years because they are a fond memory of the way we used to be. But that often doesn't leave room for who we are
today
. Sometimes we have to let go of what we started, if we know we're never going to finish, in order to start something else.
So, this week I can make my home sing by evaluating and finishing what I started. I don't always get everything done that I shoot for on "Making Your Home Sing Monday" posts, but even if I get a few of these things done we'll be singing around here!
What are

you

doing or going to do today to make your home sing?
Please go
here
for instructions and/or ideas and come back here to link up to join us today! Please do not put your own Making Your Home Sing Monday Linky on your blog. As always, please don't forget to link to this post. Also, please don't forgot to leave me a comment!