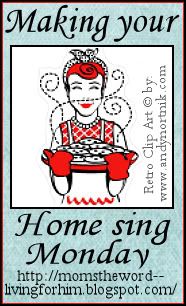 Welcome to the Making Your Home Sing Monday meme! Every day you are doing something to make your house into a home for yourself and your family (if you have one). My point with each Monday post is, what are you doing or going to do today to make your home sing?
It can be an attitude or an action. Motivation, our attitude, baking, encouraging our husband or children (if we have either one), organization, cleaning, saving money....the opportunities are endless.
Hope y'all had a great weekend! Can you believe it's nearly April? Me neither. Woohoo, bring on the summer.
As I mentioned before, I have been sick, and with two hospital visits in one week I have been laying somewhat low when I need to. However, I have been feeling lots better and most times feel like my old self again. Then there are days like today when I have moments where I don't feel well again. This has been going on since August so I know it'll pass and I'll be feeling better later.
However, this means I need to "listen" to my body. How many times do we, as women, ignore what our body says and "git 'er done?" I don't know about you, but I will almost always clean up my kitchen. Even if I have a cold or the stomach flu, I will drag myself out there and clean the sink and counters. My family will do if, but I don't want to wait until they get to it, so I will usually do it myself.
I'll bet you all have one chore that you will absolutely do, whether you feel like it or not. I know one gal who had back surgery, but she couldn't stand the fact that the laundry was not folded. So she laid on her back and folded a whole pile of laundry.
This week I don't have any big plans. I am going to do what I can do when I can do it, and not worry about the rest. It'll keep. I also probably won't be on the computer much, so please forgive me if I don't get to your blogs or respond to your comments. I do so appreciate hearing from you!
I do miss you all but I am just taking it easy, you know? If I can, I will try and pop over to your meme links but it may take me a few days to get there. Have a great week and don't forget to make your home sing!
What are

you

doing or going to do today to make your home sing?
Please go
here
for instructions and/or ideas and come back here to link up to join us today! Please do not put your own Making Your Home Sing Monday Linky on your blog. As always, please don't forget to link to this post. Also, please don't forgot to leave me a comment!