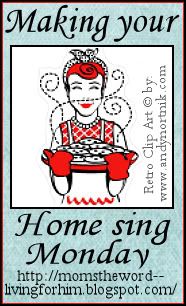 Welcome to the Making Your Home Sing Monday meme! Every day you are doing something to make your house into a home for yourself and your family (if you have one). My point with each Monday post is, what are you doing or going to do today to make your home sing?
It can be an attitude or an action. Motivation, our attitude, baking, encouraging our husband or children (if we have either one), organization, cleaning, saving money....the opportunities are endless.
When you first moved into your home, were you all excited about it? Was it exactly what you wanted, or close enough (given your budget)? Were you in the "honeymoon" phase of living in a new home?
Then, after living in it for awhile, suddenly things start to annoy you? It doesn't seem as attractive as it used to. Pretty soon, the things that charmed you before are starting to bug you. Suddenly you feel like you need more "space."
Before you ask, no, I am not doing a parallel to marriage. So you can breathe again.
Right after we moved in, about 12,000 years ago.......I set up my kitchen. It made sense at the time, so I put things in cupboards that I thought would work for me. They are no longer working for me.
Part of it is that after my dad died, my mother moved in with us, so we had to make room for her stuff. The other thing is that we have acquired a few more kitchen items now that we didn't have then.
I don't know about you all, but I do not like "things" cluttering up my kitchen counters. I have never liked having things like coffee makers or toasters left out on the counters. I want them hidden out of sight in the appliance garage.
However, I do like me some plastic containers, Tupperware or otherwise. After all, you never know when you might need to put away 50 pounds of leftovers, or a 12 course meal. You can never have to many Tupperware containers.
Except that
I
have.
Give me Tupperware or give me death!
Well, maybe not.....
Regardless, this week I have got to figure out what stays and what goes in this kitchen. I usually go through my kitchen drawers and cupboards at least once a year, and I didn't do it this last year. I blame blogging, facebook, and maybe even you people, since I like to read your blogs (even though I don't always comment. Sorry. My bad.)
I allowed the KitchenAid on the counter because it weighs a ton!!!! But now the new coffee maker is on the counter, as well as the brand new toaster that I got from Goodwill, and the brand new George Foreman grill that I also got at Goodwill. Hey, they were
both
brand new, never been used, and we needed a new toaster and I wanted to try out the grill since our friend raves about his. I also have a few knicknacks out.
All this clutter on my countertops is driving me crazy. The appliance garage is overcrowded and complaining about it. So now I have to figure out what goes where. At least until my hubby agrees to buy me a new house with a bigger kitchen. Perhaps the size of a football field?
I don't know if this will make my home sing this week, but it will make
me
happy and sure make getting dinner easier without all the clutter on the counters.
So where do you people keep all your small kitchen appliances? Are you innies or outies?
What are

you

doing or going to do today to make your home sing?
Please go
here
for instructions and/or ideas and come back here to link up to join us today! Please do not put your own Making Your Home Sing Monday Linky on your blog. As always, please don't forget to link to this post. Also, please don't forgot to leave me a comment!