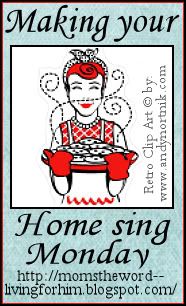 Welcome to the Making Your Home Sing Monday meme! Every day you are doing something to make your house into a home for yourself and your family (if you have one). My point with each Monday post is, what are you doing or going to do today to make your home sing?
It can be an attitude or an action. Motivation, our attitude, baking, encouraging our husband or children (if we have either one), organization, cleaning, saving money....the opportunities are endless.
Do you ever find your desires at war with your other desires? For instance, I love the idea of decorating and bringing beauty into my home. But my frugal nature wars with my aesthetic nature. Sure I can decorate frugally, but sometimes it's a compromise between what I want, and what I feel we can/should afford.
I desire a beautiful, immaculate, always neat home. But I also want my family to feel comfortable in it. I desire my home to be neat and organized, but then I also want to read blogs or books, or do something other than clean all the time.
I desire awesome meals made from scratch, but I also desire more time to do other things instead. I want to lose twenty pounds, but I want to be able to eat the food and treats that I like.
I desire consistency and a schedule but also want to be spur of the moment. What a bundle of contradictions we can be!
What if we have great plans and ideas for our home and family but never implement any of them? What if we give attention to the high maintenance children all of the time, and neglect the well behaved ones?
What if we only do the chores screaming for attention, and neglect the quieter, less in-your-face chores? Will we get anything done if we don't aim for anything?
Finding a balance between work and play is not always easy, but it is necessary. Sometimes it is so easy to give attention to the "squeaky wheel" and let other things go. But when you do that, you often find yourself just doing little but putting out one fire after another. You aren't managing your home, your home is managing you. It's tyranny of the urgent.
Without a plan, without a schedule, without organization or discipline, the days can just slip by us. Our priorities may be set by our circumstances, instead of by what's really important. When we sit down and prayerfully make a plan, we are asking God to set our priorities for us.
It is y
our
home. Make a difference in it today. Sit down with the Lord and ask Him to order your day. Make a plan, take charge of your day, don't let it take charge of you. That's how I plan on making my home sing this week!
What are

you

doing or going to do today to make your home sing?
Please go
here
for instructions and/or ideas and come back here to link up to join us today! Please do not put your own Making Your Home Sing Monday Linky on your blog. As always, please don't forget to link to this post. Also, please don't forgot to leave me a comment!