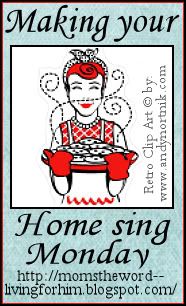 Welcome to the Making Your Home Sing Monday meme! Every day you are doing something to make your house into a home for yourself and your family (if you have one). My point with each Monday post is, what are you doing or going to do today to make your home sing?
It can be an attitude or an action. Motivation, our attitude, baking, encouraging our husband or children (if we have either one), organization, cleaning, saving money....the opportunities are endless.
Every week I sit here and prayerfully think, What can I do this week to make my home sing? What is one thing I could do to make this week go better for my family and myself?
Nearly every week, I pretty much stare at the computer and come up blank. Every week I keep hoping that I'll be able to come up with that
one thing
that will magically fix everything forever. Hoping that maybe I'll get that one thing down and never have to work on it ever again.
Wouldn't that be lovely? Of course, once I attained that perfection, then what would I do? At least I have lots of areas that can be improved upon and lots to keep me busy.....lol!
People change, needs change, circumstances change. The best thing to do is to learn to be flexible.
You ever have a day where everything just seems to be going along "normally" and then something happens and suddenly, your whole day has totally been thrown for a loop? It can be something small or something big.
How often do we forget that we can bend? How often do we forget that we don't have to have everything "perfect?" How often do we forget that we can be flexible? We can change our game plan.
The other day I had a meeting to go to and
at the last minute
I came up with the "brilliant" idea of baking banana bread. Seriously, who sits there and thinks "Well, I am already stressed enough, so why don't I
add
to that stress by taking on the job of making banana bread? That way, I will just add one more thing to all the things that need to be done before I leave the house."
Who
thinks
that way?
Me!!!!
No problem, I thought. I figured I would just pop it in the oven and let one of my children take it out for me, since I would be gone.
When I removed the flour container from the pantry, I accidentally knocked a container of several pounds of pasta shells onto the floor. You guessed it.....the impact made the lid come off and I had pasta all over the kitchen floor.
For a minute I just stared at the floor in disbelief. I was just to busy to have this happen to me that day. Not only that, the dogs were having a field day with it! I couldn't leave it on the floor, and there was noone there but me to clean it up, so clean it up I did.
The egg shell broke and I had to fish it out of the mixing bowl. There wasn't enough flour in the container so I had to go to where we store the big bag and refill the smaller container. I got a couple of phone calls and my mom needed something. You get the picture.
So I rushed around making the banana bread, rushed out the door and found myself annoyed with the people driving slowly in front of me. It was also annoying because I knew that if I had managed my time better I wouldn't have been in such a hurry in the first place! I had no one to blame but me.
Then, I made it to my meeting a minute early!!! and found out that I had the date wrong. I was early alright. A
week
early. I had looked at the calendar wrong and had now wasted an hour of my day for nothing, or so it seemed.
You know, our lives are not always going to run smoothly. Our homes are not always going to function as we'd hoped. Husbands are going to forget to call and say that they'll be late for dinner, children are going to forget that they need 10,000 cupcakes by tomorrow, dishwashers or washing machines are going to fail right when we have company coming over and a ton of dishes or clothes to do.
Let's not forget that we can bend and we won't break! We can just accept the unacceptable and know that the Lord is in it. We can just trust that He can use the unexpected, because it isn't unexpected to Him. This week I am choosing to bend instead of rigidly trying to control my circumstances, and leave the control up to Him!
What are

you

doing or going to do today to make your home sing?
Please go
here
for instructions and/or ideas and come back here to link up to join us today! Please do not put your own Making Your Home Sing Monday Linky on your blog. As always, please don't forget to link to this post. Also, please don't forgot to leave me a comment!