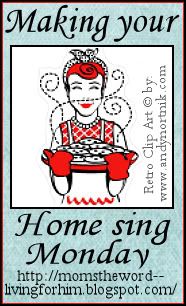 Welcome to the Making Your Home Sing Monday meme! Every day you are doing something to make your house into a home for yourself and your family (if you have one). My point with each Monday post is, what are you doing or going to do today to make your home sing?
It can be an attitude or an action. Motivation, our attitude, baking, encouraging our husband or children (if we have either one), organization, cleaning, saving money....the opportunities are endless.
Some people love to decorate their homes. They love to paint, remodel, and change things up. Then there are people who live in their homes for years only making the smallest of changes, if they make any at all. People who don't fix up their homes until it's time to sell them.
When my husband and I moved into our previous home the master bedroom was painted an extremely bright yellow. I never liked that color for a bedroom and neither did he. However, we lived in that home for many years and never repainted that room, until we decided to sell the house.
I have had several friends tell me the same thing. "Why didn't we fix up the house while we were living in it? Why did we wait so long to paint, remodel, empty the garage?....etc. We fixed up the house so nice and then we sold it. Why didn't we make the changes while we were living there?"
Can anybody relate?
My husband and I have a few things we want to do this spring or summer. Painting will be involved. There may even be a slight remodeling project in the bathroom or bathrooms. There is even talk of painting or staining the kitchen cabinets. Nothing expensive anywhere. Just a little paint here and there. Maybe a new floor in the bathroom(s), maybe not. Probably not!
It has always been hard for me to "commit" to a color. I often have a hard time picking just one color I like. Repainting the family room took forever because I couldn't narrow down the color palette.
We've been talking about repainting the bathrooms for years, but I can't seem to decide on the colors. I know I want beadboard in my house but I can't decide
where
I want it. The entry hall? Bathroom? Kitchen? Dining room?
Moving makes you make a decision. But what if you're not planning on moving?
I want my home to reflect the people who live here. Not the people who lived here
before
us. We have some outdated wallpaper on some of the walls and people, it's time to make some changes. It's starting to peel and that's not pretty. The stair railing and banister needs painting as well.
I have a love/hate relationship with antiques which I will spare you a post on. At least for now :0).
Some
antiques I tend to view as another person's taste and another person's budget that you are now displaying in your home. They reflect the other person's tastes but not yours.
When we first married we were blessed to be given furniture, drapes, pictures and knicknacks that once belonged to our parents and grandparents. We still have some of those things today. However, as a young wife I often felt like I was living in someone else's home. Where was the "me" in my home?
I probably sound ungrateful and in some ways I was. I
was
thankful for the items we were given, but also had a desire to have some furnishings and accessories that we picked out to suit our tastes, you know? A few furnishings can be picked up on sale or yard sales for cheap. Plus, there's a strong heartstrings "pull" that you get from things that belonged to your parents or grandparents and it can be hard to part with those things, even if they don't suit you.
This is turning into a rather long post, but my point is that we have plans to put the "me" into our homes this summer. We have lived for many years with the tastes of the former owners on the walls. A little paint is cheap.
Are you making your current home into a home? Or are you waiting for your next home or your "dream" home? Beauty can be found in small things like a roaring fire, the soft lighting of candlelight, the scent of a small bouquet of flowers, as well as in the bigger things like paint or stained cabinets. Don't wait till you move to put "you" into your home! Make it sing today!
What are

you

doing or going to do today to make your home sing?
Please go
here
for instructions and/or ideas and come back here to link up to join us today! Please do not put your own Making Your Home Sing Monday Linky on your blog. As always, please don't forget to link to this post. Also, please don't forgot to leave me a comment!