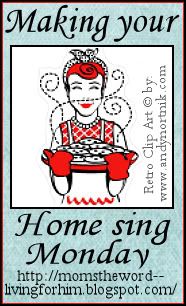 Welcome to the Making Your Home Sing Monday meme! Every day you are doing something to make your house into a home for yourself and your family (if you have one). My point with each Monday post is, what are you doing or going to do today to make your home sing?
It can be an attitude or an action. Motivation, our attitude, baking, encouraging our husband or children (if we have either one), organization, cleaning, saving money....the opportunities are endless.
I am sorely lacking in discipline this week. Do you know that I actually overslept and missed church this morning? The alarm went off and I guess I thought it was Saturday, and I ignored it and rolled over and went back to sleep.
I came in really late, and I mean
really late
as my husband was already done preaching and they were singing the last few songs. Let me tell you, it's real hard for the pastor's wife to sneak in late, lol! Especially since I told everyone that I overslept when they came up and asked "Where were you?" Most of them thought I was sick or serving in the nursery.
Can you poke fun at yourself? Can you laugh when you mess up? Do you take everything so seriously that it stresses you out and greatly upsets you when you realize you don't have it "together" as much as you hoped you did?
You know, sometimes you and I are just going to mess up. Sometimes we are going to forget to make a phone call, or forget to show up for something.
Sometimes we are going to spend waaaay to much time visiting people's blogs on the computer, or leaving comments, and suddenly it's dinnertime and the laundry still needs doing, and we realize we were on the computer to much that day.
Sometimes we are going to say something we regret, or repeat something that we shouldn't have. Sometimes we are going to eat a cupcake that we should have left alone. Sometime we are going to have a "mad" face or say a cross word to our children that we wished we could take back.
Sometimes we just need to stop and laugh at ourselves when we make a mistake. Sometimes we need to stop and take a breath, and admit the times that we were wrong. Sometimes we need to stop and ask people for forgiveness when we know we need to.
Sometimes we need to stop things before they start. Sometimes we need to set a timer, so that we don't get distracted by the t.v. or the computer. We need to schedule our quiet time with the Lord into our day, so that our day is built around
it
, instead of trying to squeeze it into our already full day.
Sometimes we have to bow to the absurd. Really crazy things are going to happen sometimes. They just are. And you can choose to laugh or you can choose to cry.
Many times we can be overly hard on ourselves because we didn't live up to our own expectations. Maybe we had big plans for our day, or our week, and we wound up giving in to our weaker nature and didn't have the discipline to do what we wanted to do, or avoid what we wanted to avoid.
God's plan for us includes out abilities and disabilities. He always knows what we are capable of doing or handling. We can trust Him in every situation that comes up, because He is faithful.
So this week, I can make my home sing by accepting that I'm not perfect, and that I need the Lord to help me work on the many areas that I'd like to see improvement in (starting with the discipline to go to bed and to get up on time, lol!)
Or, I can just say I am a failure and that I can't do it, and I can just give up and never try to be any different than I am now. Children would never learn to walk if they gave up every time they fell.
I choose to believe that I can be different. I choose to believe that there are times that I should maybe laugh at my weaknesses and failures, instead of beating myself up over them.
I choose to believe that I need to pick myself up and start moving again instead of being overtaken by my failures. I choose to believe that the Lord is stronger than my weakness.
What are you choosing to believe today?
What are

you

doing or going to do today to make your home sing?
Please go
here
for instructions and/or ideas and come back here to link up to join us today! Please do not put your own Making Your Home Sing Monday Linky on your blog. As always, please don't forget to link to this post. Also, please don't forgot to leave me a comment!