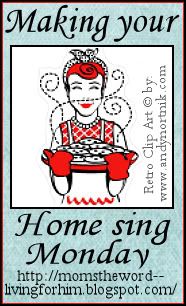 Welcome to the Making Your Home Sing Monday meme! Every day you are doing something to make your house into a home for yourself and your family (if you have one). My point with each Monday post is, what are you doing or going to do today to make your home sing?
It can be an attitude or an action. Motivation, our attitude, baking, encouraging our husband or children (if we have either one), organization, cleaning, saving money....the opportunities are endless.

Oh my! I totally forgot about posting this meme!

Like many of you, I had a busy weekend and was so busy that I really wasn't on the computer much. Consequently, I didn't think about Monday, and Monday sure wasn't thinking about me!

So I don't really have a MYHSM post today as I was busy all day Sunday. I had alot of people over at my house and I totally forgot to write one. After they left we got busy cleaning up and it just slipped my mind.

I don't know about you, but I prefer getting the cleanup done asap. I don't like waking up to a mess. I figure if I don't want to clean it up that night, I

certainly

don't want to clean it up in the morning.

You'll be happy to know that my dogs didn't let me down. Somebody accidentally knocked their cake on the floor and the dogs went for it.........so nice to have "vacuum cleaners" that are self-motivating. I wish all my appliances were that way.


This week I guess I'll be making my home sing by doing the little things that keep it running smoothly. I'll be making a to-do list, laundry, filing papers instead of letting them pile up, checking to make sure my hot spots are clean and nothing is piling up in a corner somewhere, etc., and I also think it's time to clean all the stuff that's stuck on my fridge again (read this if you don't know what I mean).


What are

you

doing or going to do today to make your home sing?
Please go
here
for instructions and/or ideas and come back here to link up to join us today! Please do not put your own Making Your Home Sing Monday Linky on your blog. As always, please don't forget to link to this post. Also, please don't forgot to leave me a comment!