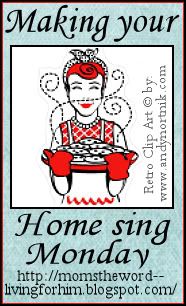 Welcome to the Making Your Home Sing Monday meme! Every day you are doing something to make your house into a home for yourself and your family (if you have one). My point with each Monday post is, what are you doing or going to do today to make your home sing?
It can be an attitude or an action. Motivation, our attitude, baking, encouraging our husband or children (if we have either one), organization, cleaning, saving money....the opportunities are endless.

M
y goodness, Christmas is coming fast! I seriously don't know where the time goes.
My hubby mentioned something earlier today. He was talking about the last minute things that people will be doing this week, and how some may get stressed out.
He encouraged us to look for the Lord in the midst of all the last minute madness, etc. He suggested that when we see the Christmas lights, that we remember that Jesus is the Light of the world.
When we see a candy cane, we can remember that Jesus died for our sins. If you don't get the analogy turn a candy cane upside down and tell me what letter does it make?
When we see a star on a Christmas tree remember the star that pointed the way to the manger where our Savior was born.
When we see someone walking with a cane, we can remember that the angels appeared to the lowly shepherds. They didn't say "Take me to your leader" but came to the normal, average, lowly shepherds.
He comes to us today. Can you hear Him? Do you know He loves you?
They can't take the CHRIST out of CHRISTmas because He
is
Christmas. He is the reason that we celebrate Christmas. He is the Reason for the season, and we won't ever lose that. They can try and take away the words but they can't take away the power of the meaning.
So this week, I'll be making my home sing by remembering the real meaning of Christmas. A precious baby was born, only to grow up and die for my sins so that I could be reconciled to a holy God who loves me, enough to send His only Son to die for my sins. My heart is humbled at the love that I don't deserve, can't earn, and am so thankful for.