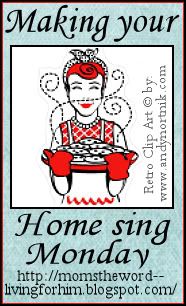 Welcome to the Making Your Home Sing Monday meme! Every day you are doing something to make your house into a home for yourself and your family (if you have one). My point with each Monday post is, what are you doing or going to do today to make your home sing?
It can be an attitude or an action. Motivation, our attitude, baking, encouraging our husband or children (if we have either one), organization, cleaning, saving money....the opportunities are endless.

I hope y'all had a blessed Christmas! We had relatives here so I have to admit I didn't get on the computer much.

This week is a good week for thinking about next year. It's a brand new year. Think of what you can do with it!

You can begin to learn a new language. You can begin the process of getting out of debt. You can add a new family member! You can take up a new hobby, go back to school, or finally begin to write that novel you're always talking about.

Instead of looking at this last year and thinking about all the stuff you

didn't

do that you thought you would, begin to think about what you

will

do in this new year!

Where do you see yourself a year from now? Are there goals you want to reach, debts you'd like to pay off, a vacation you'd like to go on?

If you have a debt you'd like to pay off or a vacation you'd like to take, break it down into monthly goals. How much do you want to pay off or save? Let's say you need to pay off $2500.00. That breaks down to $208.00 a month for twelve months. This lets you know how much you need to save and breaks it down into a more manageable goal.

If you don't even know what your goal is, how will you reach it? Imagine yourself at this time next year. Will you have wished that you'd saved a bit more money? Will you wish that you had written that letter, made that phone call, mended that relationship?

We let weeks, months and years slip by because we think that there is always time. We will always have the time to do those things that we keep wanting to do. We will always have the time to make that trip out to see the folks or the grandparents. We will always have the time to have that third baby or start that new career or heal that relationship.

But sometimes, things slip away because we didn't get around to it. At some point, we have to ask ourselves how serious we are about our wishes. If we really want to do something, we need to move from wishing to make it a goal.

Wishing never gets us anywhere if we don't move it from a thought to an action.



If we are unwilling to take the steps in order to reach a goal, then is it really a goal? If we want to get out of debt but aren't willing to cut down on our spending in order to do it, how serious are we? If we want to lose that last five pounds but aren't willing to exercise or adjust our eating habits, is it really that important to us?

This next year we need to continue to work on saving money for a family vacation and we also have some upcoming home repairs we need to be saving for. I want to get serious about the budget and do better about making things from scratch, etc. I want to continue to learn ASL. I also have things that I am praying the Lord will work on in my walk with Him. So keeping the new year in mind is how I will make my home sing this week.

So I encourage you to spend some time this week thinking about this upcoming year. Think about your expectations, your goals, things you'd like to teach your children, and what you'd like to do in this new year. Then prayerfully submit it before the Lord.


Remember, the things we spend our money on, the things we spend our time doing,

that

is what we are investing in. Are you investing your time and money on the things that are important to you?
Is it helping you or hindering you in your goals?
BTW, I am doing a guest post
here
for Heather at
"Want What You Have.
"
Have you checked out her blog yet? It's awesome! I'm talking about
chore training for young children
.
I hope you'll pop over the
re today
and check it out!
What are

you

doing or going to do today to make your home sing?
Please go
here
for instructions and/or ideas and come back here to link up to join us today! Please do not put your own Making Your Home Sing Monday Linky on your blog. As always, please don't forget to link to this post. Also, please don't forgot to leave me a comment!