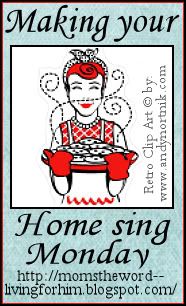 Welcome to the Making Your Home Sing Monday meme! Every day you are doing something to make your house into a home for yourself and your family (if you have one). My point with each Monday post is, what are you doing or going to do today to make your home sing?
It can be an attitude or an action. Motivation, our attitude, baking, encouraging our husband or children (if we have either one), organization, cleaning, saving money....the opportunities are endless.

I don't think I have to tell you what's coming up this week. Not if you live in the U.S., anyway. We will be celebrating Thanksgiving this week.

I do not have a MYHSM post. I have been very busy today, and it just didn't come together. I've been trying to write a post here, but the words aren't coming so at this point, I give up. Otherwise, it'll be Wednesday before I come up with something and I have got to get this meme going!

I cannot think about all I have to be thankful for without thinking of those that are having a difficult time right now.


Holidays like Thanksgiving and Christmas can be especially hard for some people. People who have lost loved ones, people who are far away from their families, or who have loved ones serving in the military or are far away, or who just feel alone. People who are in hospitals or care facilities, and cannot be home. For those who already feel lonely, a holiday can intensify it.


Also, there are alot of people living in uncertainty right now. Maybe you're one of them. If not, I'll bet you know somebody who is out of work or facing a loss of hours, or may be losing their job or their home soon, or facing a difficult illness, or they have just lost someone they love.

This is a good time to reflect on all we have to be thankful for, but also to prayerfully remember those who are going through a hard time.


Sometimes, the best thing to do for someone, is to let them know that you care. Let them know you're thinking of them or praying for them. Then maybe, they won't feel so alone.


What are

you

doing or going to do today to make your home sing?
Please go
here
for instructions and/or ideas and come back here to link up to join us today! Please do not put your own Making Your Home Sing Monday Linky on your blog. As always, please don't forget to link to this post. Also, please don't forgot to leave me a comment!