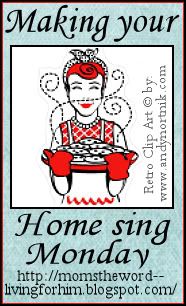 Welcome to the Making Your Home Sing Monday meme! Every day you are doing something to make your house into a home for yourself and your family (if you have one). My point with each Monday post is, what are you doing or going to do today to make your home sing?
It can be an attitude or an action. Motivation, our attitude, baking, encouraging our husband or children (if we have either one), organization, cleaning, saving money....the opportunities are endless.

This Sunday my husband was preaching on God's grace.
He was talking about how God's grace is a free gift, we can't earn it and we will forever be indebted to Him and yet not owe Him.
He quoted Col. 3:1-3. Verse 3 says
"For you died, and your life is now hidden with Christ in God."
(NIV). He asked the question, "What are
you
hidden in? In the t.v.? Computer? Alchohol? Drugs? What are you going after? What is the
core
of you going after?"
What AM I going after? What are YOU going after? If I say that the Lord is so very important to me, does my life reflect that? Do my values? My choices? Does my time?
It makes me think of priorities. What are my priorities, what are yours? Does your life reflect them in the proper order? Does mine? If I say that the Lord is my first priority, does blogging take first place over my quiet times with Him? Do my husband and children believe that they are high up on my priorities?
Later on, in talking about the gift of God's grace, my husband made the comment
"Trying to repay God with your works is like trying to pay a great debt with a penny. It can't be done."
It got me to thinking how when the kids were little, we wanted them to obey us because they wanted to and not because they
had
to. We wanted them to do their chores because they wanted to please us, and not because they were forced to. We wanted them to respond out of love, not out of obligation. We still want that. We want a relationship, not works.
Isn't that what God wants of us? Relationship instead of works? Of course, when the relationship is there, the works (actions) will be there too. But they will come out of love, not out of a "have to" mentality, or "earn it" mentality. Also, they will come out of God's grace and strength, not our own.
How often do we exhaust ourselves by trying to complete a work that
God
started in us, using
our own
strength and power?
How often do we hold ourselves up to our
own
expectations, and then when we fail, we feel so bad and so guilty?
How often do we decide how
we
think we should be, and how we think we should act, and start on a "self improvement" plan to get us there? How often do we leave God out of the picture?
The best way I can make my home sing this week, or any week, is to stop trying to work out my own agenda. Stop trying to be how
I
think I should be, and trust God to make me into what
He
wants me to be. Stop operating under works and operate under grace instead.
We need to be in His Word
consistently
. If we don't stop and listen to Him, if we don't get into His word, if we don't spend time with Him, how will we know what He want for us?
What are

you

doing or going to do today to make your home sing?
Please go
here
for instructions and/or ideas and come back here to link up to join us today! Please do not put your own Making Your Home Sing Monday Linky on your blog. As always, please don't forget to link to this post. Also, please don't forgot to leave me a comment!