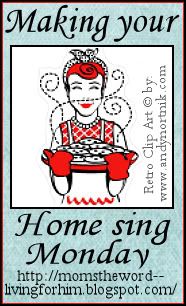 Welcome to the Making Your Home Sing Monday meme! Every day you are doing something to make your house into a home for yourself and your family (if you have one). My point with each Monday post is, what are you doing or going to do today to make your home sing?
It can be an attitude or an action. Motivation, our attitude, baking, encouraging our husband or children (if we have either one), organization, cleaning, saving money....the opportunities are endless.

I love making lists, do you? I love being able to scratch something off and be done with it. There is so much satisfaction in being able to say "I did that!"

So often I try to operate without a list but then guess what happens? I forget things, or I forget the order and importance of things. I blame it on my "perfectionist" side.

For example, last week we had some people coming over one night. I knew that there were several things that I needed to do. Was I doing them? Nope. Instead I was focusing on one small thing that didn't even really matter, noone would notice and as a matter of fact, could be put off until later in the week. But I wanted it done

now

.

Fortunately, I did get my priorities in order and put off what I wanted to do and instead took on the task of doing what I

needed

to do. The perfectionist side of me wanted to take that one small task and get it all done, just for the joy of having it done and having it done "perfectly." Or, at least, done and completed just the way I wanted it.

We have a houseful of people coming next weekend, and I have lots of ideas floating in my head. However, this would

not

be a good time for me to decide I want to refinish the dining room hutch. This would

not

be a good time for me to rip all the wallpaper off of the bathroom wall and begin painting it or installing beadboard. This would

not

be a good time to repaint the hallway or the fireplace bricks.

Yes, many of these people have never been over before. But that does not mean I need to try and "impress" them with my freshly painted stair railings. Chipped, worn paint will have to do. We'll call it the "shabby chic" look, lol! I doubt it they'll notice it anyway, and who cares if they do?

Isn't it funny how sometimes, just knowing a bunch of people are coming over can cause you to start seeing certain things that need doing and repair work that needs to be done?

I know my limitations, and taking on a remodeling project or decorating project this week and stressing myself out is not in my best interest. It works for some people, but it won't work for me.

Do you know your limitations? Do you stress yourself out with poor planning, like I was doing? Do you use stress as a

motivational

tool? Do you find yourself snapping at those you love because you waited until the last minute to get something done again?

Some people say that they work better when they wait until the last minute to meet a deadline, and that may be so, but I don't think that the stress I would feel would be worth it. In fact, they may do the work because it has to be done, but I wonder if all that stress is worth it.

So this week, I will be making my home sing by making my list (and checking it twice.......sorry, *rolls eyes*). I will see what needs to be done around here in order for things to flow smoothly this week and in preparation for our guests this weekend.

I will also try and make sure to keep priorities in mind so that I don't ignore the big, important things and obsess over the small, unimportant things. I will try to chip away at my list and not wait until the last minute and then get all stressed out!


What are

you

doing or going to do today to make your home sing?
Please go
here
for instructions and/or ideas and come back here to link up to join us today! Please do not put your own Making Your Home Sing Monday Linky on your blog. As always, please don't forget to link to this post. Also, please don't forgot to leave me a comment!