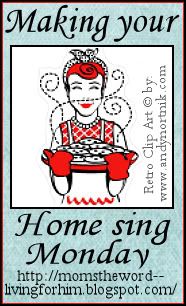 Welcome to the Making Your Home Sing Monday meme! Every day you are doing something to make your house into a home for yourself and your family (if you have one). My point with each Monday post is, what are you doing or going to do today to make your home sing?
It can be an attitude or an action. Motivation, our attitude, baking, encouraging our husband or children (if we have either one), organization, cleaning, saving money....the opportunities are endless.

This is really long, sorry. I was going to do two posts originally but just combined it all in one as it was easier for the meme.

Do you ever wonder why some people can get more done in a day than you do? Do you ever wonder how some moms can have more children than you have, and yet their homes are more organized than yours, and they manage their time better?

Or are you one of those more organized moms who is wondering why your stay-at-home friend (with no kids) just can't seem to get a shower in or get out of her pajamas before 4:00 p.m., if at all?
Do you ever make excuses as to why you can't do something or didn't get around to it? Do you ever find yourself saying "Well, I
meant
to do that today, but something came up" or "I was hoping to get around to it but I just ran out of time."
Do you ever find yourself feeling the need to justify to yourself (or someone else) why you didn't get to the laundry, or why you didn't get to the grocery store today, or why you didn't clean the house that day?
Do you ever find that sometimes you can't really explain what you were doing all day, because you don't really know? Does it ever seem like your day just slips through your fingers somehow? Do you ever feel like all you did was "put out fires" all day?
When we are working outside the home, we usually have an idea of our schedule. We know when we start work and when we end. We have an idea of what they expect from us, what the boundaries are, and what the job responsibilities are. The work may take all day but
we
don't take all day to begin our work; we can't, we have a deadline. We don't have the luxury of going into work and spending a few hours "waking up" before we get to work.
We are able to get alot of things done during that time because we are focused and not easily distracted by other things. We know the job expected of us and we know we can't sit back and read a magazine (well, not usually anyway), or get involved in a t.v. show or have long personal conversations on the phone.
We also usually have a set amount of time for lunch, and lunch doesn't usually go on for two or three hours. Those of us who are
not
good time managers can still have success because somebody else manages our time for us!
If a mom does not have any kind of a schedule or plan for her day (go
here
to read about how to make one), she will often find that her day just disappears. At the end of the day she can feel frustrated because she feels like she didn't get anything done. She often may wonder where her time goes.
Without a plan or a schedule, without considering our responsibilities at home, we often find ourselves at the mercy of the person with the loudest voice. It becomes tyranny of the urgent. Whatever the major "crisis" is that day will get the most attention, even if it's not all that important.
So often we may find ourselves putting large amounts of time into things that aren't very important (or is someone else's priority), while the important things, such as meals, laundry, or dishes, do not get done.
Another problem is we may find ourselves spending to much time blogging (*gasp!*, oh no, she did
not
just write that!!!!!), watching t.v., reading, or any other enjoyable thing. With noone around to set limits for us, we may sit down "just for a minute" and pretty soon an hour goes by, maybe more.
If we are
playing
to much, we need to stop making excuses for not getting stuff done and start getting stuff done! Stop making excuses for our lack of time and start
managing
our time! Let's stop blaming
things
for our failure to manage our time well. After all, whose fault is it if I spend to much time on the phone, blogging or on facebook. Is it the computer's fault or mine?
This last week I found myself making excuses (to myself) as to why I didn't get something done. I knew I had time to do it, I just chose to use my time unwisely in order to do something else. Something that was a lot more fun than laundry!
It's time to stop making excuses and accept responsibility for our choices. It's time to admit when we
know
we are out of balance. Ever so often it's good to take a look at our day and see if we are spending to much time having fun, and not enough time on our responsibilities....or, for some, we need to see if we are working to hard and not relaxing enough!
This week, I encourage you to make a list of your responsibilities at home. Sit down and write down what you are responsible for
(don't faint),
and what you feel that the Lord has called you to do that week in and around your home.
Then prayerfully bring your list and your day before the Lord each morning in prayer. Ask Him to help you get your priorities in balance. Ask Him to order your day.
Then remember that we can still have fun and take joy in our homemaking. We don't have to be a household "drudge." We just need to keep our priorities straight and be thankful that we can serve the Lord by caring for our families. So this week I need to prayerfully reexamine my priorities and guard my time more carefully! Otherwise, it will keep slipping away.
What are

you

doing or going to do today to make your home sing?
Please go
here
for instructions and/or ideas and come back here to link up to join us today! Please do not put your own Making Your Home Sing Monday Linky on your blog. As always, please don't forget to link to this post. Also, please don't forgot to leave me a comment!