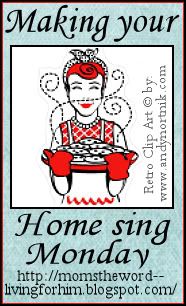 Welcome to the Making Your Home Sing Monday meme! Every day you are doing something to make your house into a home for yourself and your family (if you have one). My point with each Monday post is, what are you doing or going to do today to make your home sing?
It can be an attitude or an action. Motivation, our attitude, baking, encouraging our husband or children (if we have either one), organization, cleaning, saving money....the opportunities are endless.

This week I want to work on making my life a little easier in the kitchen. So I plan on hiring a cook. Or maybe I will just order out every day. Obviously I'm kidding (sort of.....).

Seriously, this week I have several things I want to do in order to save myself time in the kitchen.

I have never done that OAMC (Once A Month Cooking) thing, but I do like to make a few meals and stick them in the freezer for when I need something quick. However, we have eaten them all.

So this week, when I am making dinner, I want to make a couple of extra meals and pop them in the freezer. That way, I will have dinner that night, but also some extra for the freezer. I like doing it this way because you don't have to devote an entire day to cooking. You just do it while you're preparing your evening meal.

I also want to take a couple of pounds of ground turkey and brown them, then toss 'em in the freezer. That way, I can have it already browned and it will save me a step later when I'm making tacos or something. The meal prep will go much faster if I don't have to brown the meat first.

Another thing I want to do is cook some chicken and then pop it in the freezer. Then I can pull them out later when I have a casserole recipe that calls for cooked chicken. I don't know how many times I want to make a chicken casserole or something only to look at the clock, and realize I don't have enough time to prepare the recipe.

This leads me to the next thing, which is meal planning. I need to get back to that again. Meal planning saves time, saves money, and saves stress! When you know what you are making for dinner, you've already made sure that you have the ingredients on hand, and you have time to prepare it.

I also bought a bunch of green peppers on sale and I plan on cutting them up and freezing them. Then I can pull them out later for fajitas or other recipes instead of buying them at a higher price. I already have a big bag of diced onions in the freezer, and this will save me time (and tears) later.

My recipe file is a mess. Really, you should see it! So, one of the things I want to do this week is to sort through it and get it organized. That will save time when I am looking for a particular recipe.

So, this is how I am going to make my home sing this week, or make my kitchen sing anyway!


What are

you

doing or going to do today to make your home sing?
Please go
here
for instructions and/or ideas and come back here to link up to join us today! Please do not put your own Making Your Home Sing Monday Linky on your blog. As always, please don't forget to link to this post. Also, please don't forgot to leave me a comment!