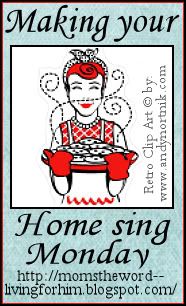 Welcome to the Making Your Home Sing Monday meme! Every day you are doing something to make your house into a home for yourself and your family (if you have one). My point with each Monday post is, what are you doing or going to do today to make your home sing?
It can be an attitude or an action. Motivation, our attitude, baking, encouraging our husband or children (if we have either one), organization, cleaning, saving money....the opportunities are endless.

I am having such a hard time getting up lately! It's getting annoying. It's not like I have a very good reason. I just don't want to get up and so I just fall back to sleep, I guess. Has that ever happened to you?

The problem is that if I allow myself to sleep in for even a half hour, then I start out already behind in homeschooling and in my work around the home. I am rushing around trying to eat breakfast and get stuff done before we start school. Not only that, but all day I am playing catch up.
Most people don't have a problem getting up if they have a job to go to. They may have trouble getting to work on time, but they don't usually have trouble dragging themselves into work. Not if they want to keep their job anyway.
Also, most people don't have trouble getting up and staying up if they have small children. After all, it's not like you want to give a toddler the run of the house while you go back to sleep for a few hours. Not if you want to keep the toddler (and the house) in one piece!
But I think some people have trouble getting up if they don't "have" to get up. If they don't have to be at work on time, or if they don't have a baby or small child who is an early-riser, or children who need to be in school.
However, there have been some who will get their kids off to school and then pop back in bed for a bit more sleep. For the mom who has a newborn keeping her awake at night, that may be the only way to recharge her batteries.
But what about the mom who just likes to sleep? *slowly raises hand* What about the mom who is a "night" owl? What about the mom who says up til 2 or 3 in the morning blogging, reading or watching t.v. and then sleeps in til noon (if she can)? Or takes a 2-3 hour nap in the afternoon because she stayed up so late? Or doesn't nap but is in a grumpy mood all day because she's tired from her late night?

You can ask practically any mom and she will say that she is tired. Especially a mom with little children. Or a mom with teenagers who is lying in bed listening for the car to pull into the driveway! Even busy women with no children are burning the candle at both ends sometimes. We're all tired!

The problem is that when we want to fit more things into our day (especially fun things) the first thing to go is usually our sleep. Then, our quiet time with the Lord suffers because we either can't stay awake, or we just "don't have time" for it.

Then, perhaps the next thing to go is our patience or our temper! I don't know about you, but when I get tired I can be a little....shall we say, grumpy?
The next thing to suffer is most likely our families and our homes. Because when we're tired we are more likely to snap at those we love. Also, if we're staying up to late and sleeping in or napping in the afternoons, we don't have as much time to do the cleaning, or we're just dragging all day and don't have the energy (again, I'm not talking about moms with babies keeping them up all night)

I don't take naps so if I'm tired, I am just in a fog all day and don't feel like cleaning, cooking, or doing much of anything. You know what I'm talking about, you have those days where you are just tired and lacking in energy or motivation all day. Clearly, our bodies are trying to tell us something.
So this week I am going to try and make myself go to bed on time so I can wake up on time. Such a small thing but the results can be huge!