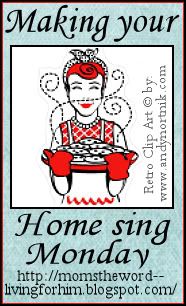 Welcome to the Making Your Home Sing Monday meme! Every day you are doing something to make your house into a home for yourself and your family (if you have one). My point with each Monday post is, what are you doing or going to do today to make your home sing?
It can be an attitude or an action. Motivation, our attitude, baking, encouraging our husband or children (if we have either one), organization, cleaning, saving money....the opportunities are endless.

I just thought I'd mention that last week's
"making my home sing" plan
did not go so well. Oh, I had high hopes, but high hopes did not keep my hand away from the snooze button. In fact, one morning I overslept and was extremely surprised as I did not even remember hearing the alarm go off.
In fact, I went so far as to check the alarm because I was sure that it was no longer working. However, the alarm
does
work, which leads me to believe that my
ears
are no longer working. Either that or I am lacking in discipline. Sigh.
Oh, and that one week where I said that I wanted to try candles to put
beauty in my home?
That whole week turned out to be a very strange week for us, schedule wise, and the family had to leave at different times, we ate at different times and once I ate all by myself! So, no candles that week.
The week before last I had
several things
I wanted to do in the kitchen to make meal preparation easier. For instance, I wanted to brown a few pounds of ground turkey, cook some chicken and pop it in the freezer, cut up some green peppers and flash freeze them, make a couple of extra meals and pop them in the freezer, and reorganize my recipe file.
Well, I managed to do all of that, except for reorganizing my recipe file. It is still a mess. I just ran out of time.
My point is, just because we have some things that we want to try to brighten up or organize our homes, or new ideas we want to try, well....it doesn't mean it's always going to work out that week.
But just because things didn't work out that week, it doesn't mean the ideas were bad. We need to keep trying and not give up. Many times I have great ideas and I try to implement to many of them at once. That can be overwhelming. Sometimes it's best to take it slow, and only add one or two new habits (or ideas) at a time.
So, I'm going to make my home sing this week by not getting discouraged when my life does not fit in with the big plans that I make. That doesn't mean they are a failure, or that I have failed. It just means that sometimes things happen and we need to be flexible!
So instead of overwhelming yourself with to much to soon, try adding one new habit a week (or a month). Make your bed every day for a month. Try one new recipe every week for a month. Throw away the junk mail (instead of letting it pile up on the counters) every day for a month.
Concentrate on doing that one thing well, until you've "got" it.
This week, my habit will be trying to tame the paper tiger and getting control of my filing (including my recipe file).
What are

you

doing or going to do today to make your home sing?
Please go
here
for instructions and/or ideas and come back here to link up to join us today! Please do not put your own Making Your Home Sing Monday Linky on your blog. As always, please don't forget to link to this post. Also, please don't forgot to leave me a comment!