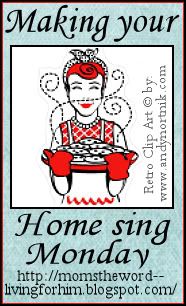 Welcome to the Making Your Home Sing Monday meme! Every day you are doing something to make your house into a home for yourself and your family (if you have one). My point with each Monday post is, what are you doing or going to do today to make your home sing?
It can be an attitude or an action. Motivation, our attitude, baking, encouraging our husband or children (if we have either one), organization, cleaning, saving money....the opportunities are endless.

If your home could sing, what would it be singing lately? Would it be singing "I'm So lonesome I Could Cry?" or "Come Together?"
"Hello, Goodbye;" or "We Can Work It Out!" Perhaps it's "Rainy Days and Mondays;" "Solitaire" or "Can't Smile Without You?"
What is the most important part of the home?
Its foundation. Without a good, solid foundation that home will crumble. You cannot build on shifting sand. Jesus is
our
foundation.
What is the

heart

of the home?
What is the heart of
your
home?
I've heard it said that the
kitchen
is the heart of the home. Some say the
woman
is the heart of the home. Some say the
family
is the heart of the home. Some may even say that
communication
or
love
is the heart of the home.
What makes your home special to you?
Is it the beautiful furniture, breathtaking gardens, lovely knicknacks? Or is it the people in it?
Today my dog was whining over his food. He didn't want to eat it but he felt the need to protect it from our other dog, as he was afraid she would eat it (even though she has her own food).
Sometimes we are like that dog. Our possessions become so important to us. Keeping them, cleaning them, caring for them, storing and preserving them all become very important. So important, in fact, that sometimes we don't even get to enjoy them.
How many of you have china in your hutch that belonged to your mother or your great grandmother? Do you ever use it? If no, why? Is it because it's to much trouble to use it, or because you are afraid it will get chipped or broken? This is a very real fear if you give a toddler a dish, but could your eight year old handle it?
Do you have beautiful pillow cases, table toppers or quilts that your grandmother made that are sitting in a drawer somewhere? Do you have beautiful pieces that you are preserving but you aren't getting any joy out of them?
What are we teaching our children about things if we don't enjoy what we have? If we teach them that things are to be preserved but not enjoyed? Can we at least frame something and put it out so that we can enjoy it? Can we protect it and enjoy it at the same time somehow?
Sometimes we don't get the beauty out of life because we are to "serious." We are so caught up in making the home run, in cleaning and providing the meals, doing the dishes and laundry, that we forget to take joy in what we are doing. We forget to have fun.
We forget to
be
in the very life that we're living. Where is the joy? Where is the laughter? Where is the beauty?
This week, my friends,
lighten up!
Look for a way to bring the beauty into your home. Look for a way to brighten your day and everyone else's by bringing beauty into it.
It could be flowers, candles, music. A warm fire or wide open windows (depending on where you live). It could be sleeping on grandmother's pillow cases or eating off of your mom's good china.
Put beauty in your home. Put
you
into your home! What's missing might be YOU!
What are

you

doing or going to do today to make your home sing?
Please go
here
for instructions and/or ideas and come back here to link up to join us today! Please do not put your own Making Your Home Sing Monday Linky on your blog. As always, please don't forget to link to this post. Also, please don't forgot to leave me a comment!