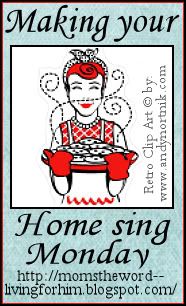 Welcome to the Making Your Home Sing Monday meme! Every day you are doing something to make your house into a home for yourself and your family (if you have one). My point with each Monday post is, what are you doing or going to do today to make your home sing?
It can be an attitude or an action. Motivation, our attitude, baking, encouraging our husband or children (if we have either one), organization, cleaning, saving money....the opportunities are endless.
The American Heritage Dictionary defines nagging as
"to annoy by constant scolding, complaining or urging...to scold, complain or find fault constantly."
The Bible says
"Better to live on a corner of the roof than share a house with a quarrelsome wife"
in Proverbs 25:24. It also says
"Better to live in a desert than with a quarrelsome and ill-tempered wife"
in Prov. 21:19.
You're welcome.
Have you ever started a sentence with "I hate to nag but....." or "Sorry about nagging but...." You know, I don't like to nag either. But sometimes I think we
train
ourselves to nag.
To nag or not to nag, that is the question. Do I let something go, and let it pile up and pile up, and then I
blow
up? Do I get in little "digs" that begin with "you never...." or "you always...."
Do I passively/aggressively walk around slamming cupboards and doors, until somebody finally comes out and sweetly asks "Are you upset?" or "What's wrong?"
Do I blow up at them if they
do
come out? Thereby teaching them not to ask ever again or suffer the consequences?
Have I adequately communicated my expectations to my children? Have I adequately trained them on the things that I expect them to do? Have I followed through on consequences if they don't meet those expectations (acting), or do I just get mad instead (reacting)? What is my response, am I acting or
re
acting?
Have I adequately communicated my thoughts to my husband? Do I expect him to read my mind?
Am I treating my husband as if he were one of the children? Do I expect obedience from
him
, as well? Am I constantly nagging him and are we fighting about it? Am I getting more and more frustrated and he's getting more and more annoyed?
The thing is, we can't make our husbands do what we want them to do. We can't make them "obey" us. We can't force them to pick up after themselves, fix the leaking faucet, or change the baby's diaper. But sometimes, we get so used to being mommy to the kids that we forget and try to be mommy to our husbands too.
I could do a whole Ephesians 5 thing here, but I couldn't do it justice, and besides, I don't have time. The thing is, we are to love and honor our husbands. We are to give them our respect and to live in submission to them.
As I've said before in a previous post on submission
(here)
, the word "submissive" can often be misunderstood. That does not mean that a woman is not as important as a man. That does not mean that she has less value than a man. Men and women are of equal worth in God's eyes.
They have different roles but equal wor
th
. However, there can only be one
head
in a home, and God has designated the man as head of the home.
It works best that way. There can't be two heads of the family. Somebody has to lead, and somebody has to follow, and God has called the husband to lead.
My hubby and I are not alike. My hubby looks at things differently than I do. That's how God made him. At any given moment, he may have a different priority than I do.
While, at that moment, I may feel that having him nail something to the wall is about as important as world peace, my hubby may feel differently. While I may feel that there is nothing more important than him putting the mail away instead of leaving it out, he may feel that peace and happiness lie elsewhere at that moment.
(This can go both ways, you know. While he may feel that nothing is more important than clean socks or clean towels, I may have other priorities that day.....such as blogging. So he may be running out because I was busy goofing off and didn't notice.)
I can choose to follow him around and nag him, and cause tension in our marriage, or I can choose to accept that some things may not get done when I want (or not at all) and let it go. I can choose to appreciate and be thankful for the things that my husband
does
do, instead of dwelling on the things that he
doesn't
.
I can take things to the Lord in prayer, and ask him to change
me
, not my husband. To make me more patient, more forgiving. I can choose to love the things about my husband that make him such a good husband and father, and prayerfully ignore the "little" things that may or may not get done.
Or I can choose to nag, and to tear my marriage down with my own hands. Hmmmm, what will I choose this week? What will
you
choose?
What are

you

doing or going to do today to make your home sing?
Please go
here
for instructions and/or ideas and come back here to link up to join us today! Please do not put your own Making Your Home Sing Monday Linky on your blog. As always, please don't forget to link to this post. Also, please don't forgot to leave me a comment!