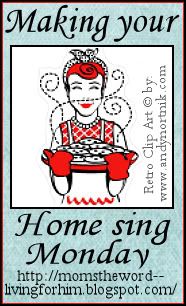 Welcome to the Making Your Home Sing Monday meme! Every day you are doing something to make your house into a home for yourself and your family (if you have one). My point with each Monday post is, what are you doing or going to do today to make your home sing?
It can be an attitude or an action. Motivation, our attitude, baking, encouraging our husband or children (if we have either one), organization, cleaning, saving money....the opportunities are endless.
This last week went fast. August is nearly over and Fall is on its way. Another school year is beginning and come January another new year will begin. Where does the time go?
Every year about this time, it strikes me that this is a good time to do some prayerful planning for the next year. I look at our homeschool schedule and any new classes, and make any changes that need doing. I also take a look at my own household schedule to make sure that it's still working for me. As the school year begins I get a lot busier with ministry things too.
Then I think about how nice it would be to learn to sew. It occurs to me that if I had wanted to learn to sew I could have started
last
September and come this September I would have had a whole year of learning under my belt. Who knows, I might even have
made
that belt!
Are there things you want to learn? Are there things you want to do? What is stopping you?
Sometimes it's money, and that's a good one. Yes, I'd love to learn to sew, I think, but I don't have a sewing machine and I don't want to buy one or to pay for lessons to relearn how (I took it in junior high and forgot everything I learned).
Sometimes it's ambition. I don't have the desire to grab a book and teach myself, even if I had a sewing machine. I don't have the desire to sew by hand either. So I guess I just don't want to learn to sew that much, do I? I like the
idea
of it, but just can't seem to wrap my mind around the actual doing of it.
Sometimes it's priorities. There are things I'd rather do, or learn, than sewing. So I put my time and effort into that.
Sometimes it's time. It's always about time. There's not enough time to talk about time. We don't have the time.
I have several things that I keep saying that I want to do (or need to do) but I'm not doing them. That's because I'm to busy blogging, or reading, or cleaning, or organizing or cooking, or whatever other choices I make with my time.
If I want to do the things that I want to do, then I need to make the time to do them. Whether I blog less, or read less, or do-something-less. I can't get more time so I have to
make
more time. I have to make more time to do some of the things I've been wanting to do but putting off.
I can't do everything so I have to choose
some
things that I want to do. That's time management. Setting priorities and using your time wisely.
So one of the things that I am going to make time for is meal planning. I haven't been doing that lately. Yet it's definitely a time saver and a budget saver. I also want to get back in the habit of trying out a few new recipes. I haven't been doing that lately either.
What are

you

doing or going to do today to make your home sing?
Please go
here
for instructions and/or ideas and come back here to link up to join us today! Please do not put your own Making Your Home Sing Monday Linky on your blog. As always, please don't forget to link to this post. Also, please don't forgot to leave me a comment!