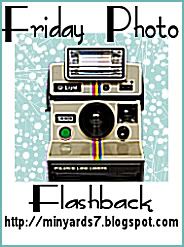 Yup, it's time for
Friday Photo Flashback
, hosted by
Alicia
. So dig up your old photos, scan 'em and post 'em!
This isn't "technically" a picture, as pictures go. It's a picture of a video that I shot many years ago. My oldest was around five or six at the time, and he is holding something in his hand and talking to his daddy about it. Judging from the sweet expression on my husband's face, it might have been something that my son made.
Maybe it was my husband's birthday. Maybe not. There were many times like this. My hubby coming home from work and our children sitting on his lap, telling him about their day and showing him things.
This shot is proof that you won't remember everything. Neither my husband nor myself remember the exact moment that this was taken. Of course we have the dvd. But we don't remember this exact "snapshot" in time.
The funny thing is, there are some pictures that I can tell you exactly when they happened, and what was going on at the time. But some pictures, like this, I can't. Many times you treasure the moment, so sure you'll remember it forever....and sometimes you do, and sometimes you don't. The feelings, the love, those you'll remember.
What I love about this shot is that my son is sitting on his daddy's lap, my husband is holding him and I can see the love and pride on his face while he listens to our son.
These are moments that we treasure. You may not remember the exact moment of the picture, but the feelings it evokes is what you treasure. Here, he is a little boy forever. Our son is 20 now, and he doesn't sit on his daddy's lap anymore. But the pride, the love that they share, it's still there. The moment is frozen but the love goes on forever.
Please go
here
for more photo flashbacks!