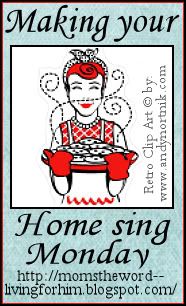 Welcome to the Making Your Home Sing Monday meme! Every day you are doing something to make your house into a home for yourself and your family (if you have one). My point with each Monday post is, what are you doing or going to do today to make your home sing?
It can be an attitude or an action. Motivation, our attitude, baking, encouraging our husband or children (if we have either one), organization, cleaning, saving money....the opportunities are endless.

Tomorrow we start homeschooling again. Wow, the summer went fast! I can hardly believe it.
The first week of school is usually an adjustment as we go from the carefree (?) days of summer back into the school routine again.
For my son it's an adjustment as he is back into school again. Back to getting up a bit earlier, back to school work, back to a bit more scheduled day.
For me it's an adjustment as I now have less time in my day, so I usually spend the first week "tweaking" my schedule and figuring out what works and doesn't work in our homeschool schedule.
Each year I make up a new schedule. Some of it remains the same, but it's always a bit different as each year we drop a class and/or add a new one.
I like having a routine for my homeschooling day, as well as the rest of the day. It keeps me on track, and it makes sure that my priorities are in line with what I'm doing.
After all, if I say that homeschooling is a priority, but I put everything else ahead of it, then it isn't much of a priority is it?
A schedule helps me to get in all the little things that need doing around here, homeschooling, dishes, laundry, meals, cleaning, etc. The nice thing is that a schedule works for
you
, you don't work for the schedule. If it doesn't work,
adjust
it!
I have a block of time in the afternoon in which I schedule all sorts of things. I can rotate those things through that block of time, as I don't necessarily do the same thing every day. That way, I can have a bit of freedom in my schedule, but the block of time remains constant. It's what I do with it that changes.
So this week I will be making my home sing by getting back into the school routine again, and figuring it out. That also means that I will have less time on the computer, which means I may not be visiting your blog as much, or if I do, I may not be commenting as much.
Just know that y'all are much appreciated and please forgive me if I don't get around as much. It's time to go back to the school daze!
What are

you

doing or going to do today to make your home sing?
Please go
here
for instructions and/or ideas and come back here to link up to join us today! Please do not put your own Making Your Home Sing Monday Linky on your blog. As always, please don't forget to link to this post. Also, please don't forgot to leave me a comment!