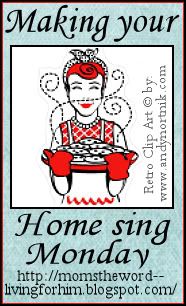 Welcome to the Making Your Home Sing Monday meme! Every day you are doing something to make your house into a home for yourself and your family (if you have one). My point with each Monday post is, what are you doing or going to do today to make your home sing?
It can be an attitude or an action. Motivation, our attitude, baking, encouraging our husband or children (if we have either one), organization, cleaning, saving money....the opportunities are endless.
It's easy to place your child's needs ahead of your own, but your husband's needs? Puh-lease. He's a big guy, he can take care of himself. Unfortunately that's the way it tends to be sometimes.
It's easy to take care of your child when he or she is sick but take care of your husband when
he
is sick? Hey, he's a grownup and he should stop whining.
It's easy to pick up your child or take your child somewhere, but take your husband somewhere so
you
can have the car.......hey, he can take the bus. So what if he has to walk three blocks in the rain, he won't melt.
It's easy to make something for your child for lunch, but your husband? Hey, he knows where the kitchen is, doesn't he?
It's easy to drop the housework and the laundry and go spend time with your child, but let the housework go and spend the evening with your husband? Isn't that what the t.v. is for?
It's easy to answer the many questions of your children, but when you husband asks? Can't he see that you're busy and stop bothering you?
It's easy to interrupt your chores and accept the hugs and kisses of your children, but from your husband? Can't he see that you're stressed and leave you alone?
It's easy to set yourself aside for your child, but for your husband? Come on, what's he done for
you
lately?
Are you to busy for your husband but not your children? Do your children always come first and your husband always come last? Is he low priority or
no
priority? Our husbands need to come first with us, and there's nothing wrong with that.
That doesn't mean we ignore the needs of a screaming, crying baby who is hungry. Of course we use common sense. But it does mean that we don't shut our husbands out of our exclusive little club of mommy and kids. It does mean that we don't lavish our time, attention and affection on our children and make our husbands feel as if they are an intruder in their own home.
Sometimes, in a hurting marriage, a wife is waiting for her husband to love her as she wants to be loved, before she will love him as
he
wants to be loved. Somebody has to make the first move. Somebody has to take the first step. Somebody has to reach out first. Will it be
you
today?
Yes, our babies and our children need us. But so do our husbands. When those babies have grown up and moved away, dear hubby will still be there. Will you
know
him?
I can make my home sing by remembering to show my husband the love, honor and respect that he deserves. To make sure that I have as much time, love and attention for him as I do for my children. To continue to be as glad to see him as I am to see my children!
What are you doing or going to do today to make your home sing?
Please go
here
for instructions and/or ideas and come back here to link up to join us today! Please do not put your own Making Your Home Sing Monday Linky on your blog. As always, please don't forget to link to this post. Also, please don't forgot to leave me a comment!