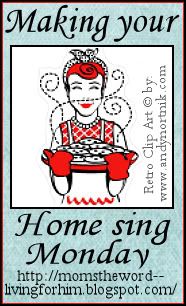 Welcome to the Making Your Home Sing Monday meme! Every day you are doing something to make your house into a home for yourself and your family (if you have one). My point with each Monday post is, what are you doing or going to do today to make your home sing?
It can be an attitude or an action. Motivation, our attitude, baking, encouraging our husband or children (if we have either one), organization, cleaning, saving money....the opportunities are endless.
Sometimes the things that can cause us the biggest frustrations in our homes are things that can easily be fixed with just a little thought and/or planning ahead of time.
Last week I was getting ready to leave the house and I couldn't find my other black shoe. It was supposed to be in the closet where it belongs, but it wasn't there. It wasn't there because I had been in a hurry the last time I wore them and hadn't returned them to their proper spot. I had just kicked them off, in a hurry, and one was hiding under something.
Recently I couldn't find my car keys that are supposed to be kept in my purse. Again, I had been in a hurry when I came home and just dropped them down instead of returning them. Then I couldn't find them without a lot of time spent looking.
The nights that I don't clean up the kitchen, which isn't often but it
does
happen, lead to mornings where I wake up and I am already behind.
Clothes that get washed and forgotten mildew and have to be washed again. Clothes that are dried and forgotten get wrinkled. Spills on the floor or counter can dry and become as hard as cement if they aren't wiped up right away, not to mention they can be dangerous if they're on the floor.
We make more work for ourselves and we stress ourselves out when we don't plan or follow through. Instead, we are planning to fail. Instead of being homemakers who are happy to care for our families, we can become crabby and unpleasant to be around. And many times, it's nobody's fault but our own.
Many times we make more work for ourselves by putting things off. By not getting back to the laundry, or the dishes, or putting things back where they belong or wiping up spills. We think "I'll get to it later."
Isn't it funny how a person can excel at a job they held outside the home because they're paid for it, because they take a certain pride in it, or perhaps because someone is there to motivate them or evaluate them, but they can struggle at their homemaking
inside
the home?
We can get up early enough to be somewhere on time when we're paid for it, but can't seem to motivate ourselves to get up early enough so that our day at home goes better. We can manage our time when we were working but can't seem to manage our time at home as well.
For me I think I can make my home sing by making better use of my time. By sticking to my routine (click
here
). By looking at my upcoming week and applying a little time management. By applying the do-it-now principle and doing it
now
(whenever possible), instead of waiting for later. After all, if I don't want to do it
now
, why do I think I'll want to do it
later?
What are you doing or going to do today to make your home sing?
Please go
here
for instructions and/or ideas and come back here to link up to join us today! Please do not put your own Making Your Home Sing Monday Linky on your blog. As always, please don't forget to link to this post. Also, please don't forgot to leave me a comment!
You may need to delete whatever was in the box previously, but don't worry, you're not deleting someone's link. Mr. Linky just may not be cleaning up after himself, that's all. Just delete whatever is in the box and put in your own link.....you won't ruin anything!