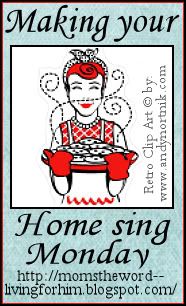 Welcome to the Making Your Home Sing Monday meme! Every day you are doing something to make your house into a home for yourself and your family (if you have one). My point with each Monday post is, what are you doing or going to do today to make your home sing?
It can be an attitude or an action. Motivation, our attitude, baking, encouraging our husband or children (if we have either one), organization, cleaning, saving money....the opportunities are endless.
If I had to use one word to describe my home right now it would be Disorderly. Yup. It just seems like every room has it's own little pattern of chaos happening right now.
The sunroom has one basket of folded laundry in it and one basket of unfolded laundry. Not to mention a book and a couple of magazines lying around. The kitchen has a cooler sitting on the counter, a rice cooker that is clean but not put away, a hand mixer that was used and left out yesterday, the Robo-cut from when we clipped our dog recently, some cans and plastic bottles for recycling, some dvds, and a set of free weights on the kitchen table.
There were a few other items as well but I will spare you. BTW, doesn't everybody have weight lifting equipment on their kitchen table?
The dining room has a rack of laundry that dried outside and I brought it and it's still there where I left it. The crockpot is on the dining room table, right next to the iron. There is also a box with some stuff in it and a few other items out as well. BTW, doesn't everybody have an iron on their dining room table?
In the living room, the slipcovers and the pillows are are messed up. There is a book and a church bulletin on the coffee table. On the floor sits a bag of decorating knicknacks that I bought at Goodwill about three weeks ago that I absolutely had to have. There they sit. Doesn't everybody buy stuff at Goodwill and then leave them in a bag for three weeks?
Are you seeing the pattern here? We really won't talk about my makeup sitting on the bathroom counter. I never leave anything on the bathroom counter. I always put it away.....except that I haven't lately.

We won't mention the master bedroom either......sigh. And we'll just avoid the family room, laundry room, etc. After all, I can only take so much honesty in one day.
Here is the thing. Pretty much everything in each room would only take minutes to pick up and establish order if I was doing it every day. It's just surface cleaning. It wouldn't take long at all. But when you let it pile up it takes longer, alot longer.
When it's just a few items out it's tempting to leave them out because you know it'll only take a few minutes to put them away and you'll get to them "later." But then later doesn't come and the next day you leave a few more things out that you'll get to "later." Pretty soon, you've got a big mess on your hands!
I don't like it when my home gets messy. I can't let it go for long without having to stop and get it straightened up again. When we get busy I am able to let it go for a few days if I have to. I used to not be able to do that. I used to insist that the house was immaculate every night before I went to bed. I would stay up to midnight or 1 a.m. cleaning, and then I was exhausted the next day.
Now, I am able to let it be messy for a bit if we are busy and I can't keep up, or if I am being exceptionally lazy and just don't care (sigh!). But I don't like that I am able to do that.

Not usually the kitchen though, I have got to have my kitchen clean every night if at all possible (last night it wasn't because I didn't feel like being up late).
So now you know what I will be doing this week. I'm pretty sure I was saying this exact same thing a few weeks ago. I am off my routine, and it's time to get back on board....sigh. I am sighing alot today!
But I am thankful to have a home to clean, and a family to clean it for. I need to get my kids back on their routines as well. After all, I am not the only one with cleaning chores around here. Hopefully this week my home will be singing intead of sighing as I go from disorderly to orderly!
Please keep little Stellan and his family in your prayers. His baby heart is failing and the doctors need wisdom to know what the next step is.

What are you doing or going to do today to make your home sing? Please go here for instructions and/or ideas and come back here to link up to join us today! Please do not put your own Making Your Home Sing Monday Linky on your blog. As always, please don't forget to link to this post. Also, please don't forgot to leave me a comment!