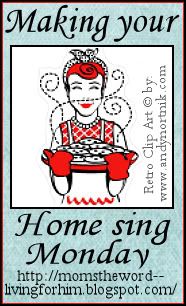 Welcome to the
Making Your Home Sing Monday
meme! Every day you are doing something to make your house into a home for yourself and your family (if you have one). My point with each Monday post is, what are you doing or going to do
today
to make your home sing?
It can be an attitude or an action. Motivation, our attitude, baking, encouraging our husband or children (if we have either one), organization, cleaning, saving money....the opportunities are endless.

Have you ever found yourself saying "I wish I had a bigger house?" or "I wish I had a better car?" or "I wish my husband made more money?"
Have you ever said that to anyone else? Have you ever said it to your husband or
in front o
f your husband?
By the way, I have. I once said I wished we had a bigger house (o.k.
more
than once). I wanted a bigger, newer home, of a certain style, but we couldn't afford to move. The kids were little and we could barely afford the home we were in. But I really had a certain home, in a certain area that I liked. Lots of trees, lots of room, lots of bathrooms, lots of porch.
How do you think it makes our husband's feel, if we put those thoughts into words? Whether we realize it or not, aren't we really saying that their income isn't enough to buy us what we want? Aren't we suggesting that his job isn't good enough? That he isn't being a good provider for us?
Yes, we know that we are to draw our self-esteem from the Lord. But a man's job is a big part of who he is, just like taking care of our homes is a big part of who we are. It is very important to him to be able to provide for his family.
And I believe that if we keep talking about that bigger house or better car, that we are in danger of attacking that part of his self-esteem. We are calling into question his ability to provide for us, as God has given him to do.
What if your hubby continually talked about how great his mom's cooking was? I don't mean "Oh my mom makes great pot roast" but what if he just said "Man, I wish you could cook like my mom!" Would that hurt? What if he said it in front of other people? What if every day, he gave constant reminders that your cooking wasn't good enough. Would it hurt?
I am not talking about trying to live frugally, in order to pay off some bills or save some money. I am not talking about encouraging your husband to finish his schooling, or encouraging him in his job search, or whatever the Lord is leading Him to do.
What I am saying is that we need to be content with where the Lord has placed us. We need to be content with our husband's provision for us, and live within it, and be thankful for it. Because it is
God
providing for us,
through
our husbands.
If I am not thankful for my husband's provision, than I am not thankful for the Lord's provision.
For He is in control.
Do you ever
thank
your husband for going to work every day? Do you ever encourage your kids to thank him? If you just said to yourself "Well, he never thanks
me
for all I do around here" I would encourage you to remember that we aren't responsible to the Lord for our husband's behavior and actions. We are only responsible for
our own
behavior and actions.
Be thankful today for your husband, for the father of your children! Be thankful for your Heavenly Father today and every day!
What are you doing or going to do today to make your home sing?
Please go
here
for instructions and/or ideas and come back here to link up to join us today! As always, please don't forget to link to this post. Also, please don't forgot to leave me a comment!
You may need to delete whatever was in the box previously, but don't worry, you're not deleting someone's link. Mr. Linky just may not be cleaning up after himself, that's all. Just delete whatever is in the box and put in your own link.....you won't ruin anything!