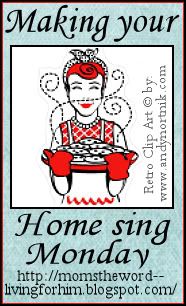 Welcome to the
Making Your Home Sing Monday
meme! Every day you are doing something to make your house into a home for yourself and your family (if you have one). My point with each Monday post is, what are you doing or going to do
today
to make your home sing?
It can be an attitude or an action. Motivation, our attitude, baking, encouraging our husband or children (if we have either one), organization, cleaning, saving money....the opportunities are endless.
I am good at ignoring things when I want to. Really, you'd be amazed at what I can ignore!
I can ignore the fact that eating ice cream after dinner or eating chocolate is not going to make my pants fit any looser.
I can ignore the fact that my laundry is piling up and it's probably not going to wash itself. Where is Martha Stewart when you need her?
I can ignore the fact that it's probably not going to fold itself either.
I can ignore the dust on the tables, the fact that the dog needs a bath, the fact that I haven't exercised in awhile.
I can ignore the recycling that needs to go out, the fridge that needs more groceries, the rug that needs vacuuming, the floor that needs sweeping, the garbage that needs to go out.
I can step over something on the floor instead of picking it up. I can do all this.....and I have.....when I want to.
Why do I want to? Why would
you
want to?
Because sometimes, just sometimes, there is a good book out there with your name on it. There is a movie you want to see. A friend who needs a listening ear or just wants someone to laugh and have lunch with. A child who needs you. A husband who wants to spend time with you. A Savior who is calling you to a place of quiet rest.
We can ignore the Lord's call. We can be so involved in what we feel we need to do, or what we
want
to do, that we can manage to ignore Him calling us all day, because we "know" that we will get to Him later. But then later comes, and sometimes we can be to tired. So then we say "tomorrow." How many tomorrows do we have before we make time for Him?
Sometimes you'll hear people talk about balance and priorities. I have heard people talk about how housework takes all day. And it does, if you keep getting sidetracked and pulled away from it, or if you don't actually
do
it. Or if you do it to perfection, because "good enough" is never good enough.
Sometimes we manage to find time to do everything we want to do, or everything we feel like we need to do, but then we just don't find time for Him. There's always time to watch that t.v. show, or read a chapter of that book, or go on the computer, but not enough time for spend with Him.
The best thing I can do to
make my home sing
is to let the Lord remind me of
His
priorities for me. To let Him set the balance, so I don't work to much, or play to much.
To come before Him in prayer and say "This is what I have going today, Lord. What are Your plans? How can I serve You today? Are my plans in keeping with Your plans? Are my priorities in keeping with Your priorities for me? Let me be open to changes in my day when You bring them."
This is the best way to start my day, with Him! Do we
really
believe that the Lord would
not
help us make time in our day to spend with Him?
How many times do we go about putting our day in order, without asking Him about His priorities for us? How many times do we make plans, without asking Him what He would have us to do today? How many times do we go about our day without inviting Him into it? We need to make Him our first priority!
What are you doing or going to do today to make your home sing?
Please go
here
for instructions and/or ideas and come back here to link up to join us today! Please do not put your own Making Your Home Sing Monday Linky on your blog. As always, please don't forget to link to this post. Also, please don't forgot to leave me a comment!
You may need to delete whatever was in the box previously, but don't worry, you're not deleting someone's link. Mr. Linky just may not be cleaning up after himself, that's all. Just delete whatever is in the box and put in your own link.....you won't ruin anything!