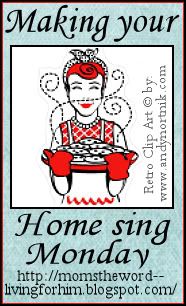 Edit: Mr. Linky is not cooperating today so please leave your URL link in the comments, or just mention in the comments that you are participating today, so that people can click on your comment to visit you. Thank you!
Welcome to the Making Your Home Sing Monday meme! Every day you are doing something to make your house into a home for yourself and your family (if you have one). My point with each Monday post is, what are you doing or going to do today to make your home sing?


It can be an attitude or an action. Motivation, our attitude, baking, encouraging our husband or children (if we have either one), organization, cleaning, saving money....the opportunities are endless.

I am behind on my laundry. Sometimes I wonder how that happens. It just piles up on me (haha, get it?
Piles?
Get it?
Never mind
). Seriously, it
sneaks
up on me, like a big, smelly laundry monster. Oh, and I have a shirt that needs to be ironed. I don't buy shirts that need to be ironed, because
helllloooo
, why would I want to make
extra work
for myself?
A wrinkle or two never hurt anybody, that's what I always say! You ever known anybody to be hurt by a cotton wrinkle? See? I rest my case. However, I didn't buy this shirt. But guess who gets to iron it?
It's my own fault. I am rather possessive of the laundry. I won't even let my own mother touch our laundry......and who do you think used to do mine when I was a kid? However, I just can't stand having anybody but me do the laundry, even though they know how. After all, they might ruin a sock or something. Oooh, imagine how awful that might be.....
Oh, and I have overdue library books. Not sure how that happens either. I check out 4,000 books at a time and read maybe one of them. The rest just sit around making me feel guilty for not reading them. All the while the books are mocking me and the $$ fees are adding up that I owe the library. Hey, just doing my part to support the library system.
My dog needs her nails clipped, not to mention her hair cut. I need my bangs trimmed or I will be rivaling my dog for the sheepdog look. Do I dare even mention the status of my leg hair? Seriously, aren't you tired of me talking about leg hair? I know I am, but the stupid things just won't go away! (the leg hair I mean, not my legs. Those can stay.)
I'm not sure what I'm making for dinner tonight, and frankly I'm not sure that I care! Ask me if I care. Go on. Ask me. Do I care? I know that McDonalds, KFC, Burger King and Taco Bell are all more than happy to have my business. Hey, cold cereal is always available!

My toilet bowl glares at me every time I walk in there (and yes, I do believe that you really did need to know that. You're welcome!) I thought I had splotches all over my face but it was just the mirror I was looking in.


Are you seeing a pattern here? It's the little things.......the little things are what trip you up.
Oh, and for some bizarre reason my family is partial to clean clothing. Go figure. Who knew? Clean towels, clean socks, and I'll just stop right there. You get the picture. Oh, and clean dishes too. What is it with these people?
You do the laundry, you do the dishes, and six months later they need doing again!!!!!
One of these days I am going to have my family put on every item of clothing that they own and take a shower fully-clothed, while holding a stack of dishes, silverware, and cups. That oughta do it. I wonder if I could toss the dogs in there too. Now that is multi-tasking. Every thing gets cleaned at once. Ooooooh, wouldn't it be awesome if the cars would fit in there too?
But until my family cooperates with my clever ways of cleaning/multitasking, I guess the way for me to make my home sing this week is to pay attention to the details. So this is what I will be doing. Catching up on the laundry, doing some meal planning, and doing some cleaning too. It's all in the details.....

What are you doing or going to do today to make your home sing?
Please go
here
for instructions and/or ideas and come back here to link up to join us today! As always, please don't forget to link to this post. Also, please don't forgot to leave me a comment!
Please note: Mr. Linky has been rather interesting lately, so we want to pamper him all we can. To link up, please click on the box below, and it will take you to the Mr. Linky box where you can link up as usual.
You may need to delete whatever was in the box previously, but don't worry, you're not deleting someone's link. Mr. Linky just may not be cleaning up after himself, that's all. Just delete whatever is in the box and put in your own link.....you won't ruin anything! If you find you have trouble leave me a comment and I'll link you up!